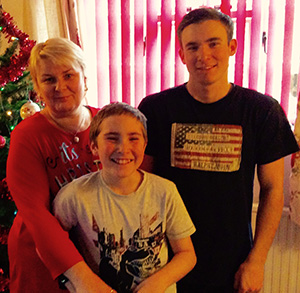 From epic tandem rides to leaping out of planes, intrepid Lorraine Barnes is marking her 50th birthday in style, seeking to raise £50,000 from 50 fundraising events to support the fight for a life unlimited by cystic fibrosis, a condition her two sons, Daniel, 20, and Joseph, 12, battle each day.
Over the past 18 months, Lorraine's mission has already seen her shave off her hair, hold auctions via Facebook and eBay, and walk across the roof of London's O2, and she still has a Wing Walk to go, as well as a fundraising ball on 20 May to mark the milestone itself.
Lorraine, who has so far raised over £34,000 says: "To say this challenge took place during a difficult time health-wise for my youngest son, Joe, would be a complete understatement.  In the 18 months since I started he's been in hospital eight times. He won't be admitted again until after the Ball, for fundoplication surgery (touch wood!). He's had between 18–20 weeks of IV antibiotics in this time and his lung function has dropped by nearly 40%.
"However tough any challenge I undertake in aid of the Cystic Fibrosis Trust, nothing will ever be as tough as watching all that he's gone through over the past few years – or as tough as the amount of friends I've lost to cystic fibrosis".
Alison Edwards, Community Development & Fundraising Manager for the East region at the Cystic Fibrosis Trust, is in awe of Lorraine's determination and commitment : "Lorraine is an inspiration, she is absolutely focused on completing her 50 Fundraisers Campaign and reaching her target of £50,000."
Find out more about Lorraine's Challenge, and how you can help Lorraine celebrate at her birthday ball, at http://www.50fundraisersforcysticfibrosis.com/  or contact Lorraine on 07977 097652 or e-mail livvy1966@googlemail.com.
If you'd like to help Lorraine reach her £50,000 target, you can make a donation by visiting: https://www.justgiving.com/50fundraisersForCysticFibrosis.