Activities for adults with cystic fibrosis
Join our pilot series of virtual events, specifically for adults with cystic fibrosis (CF), and connect with others online in the CF community.
Following demand from the CF community, and to provide opportunities to connect with others online during lockdown and shielding, we are piloting a short series of virtual events specifically for people with CF aged 18+. These events will be led by people with CF or CF professionals, and will provide adults with CF the opportunity to get involved in social, active and fun events.
We hope there will be something for everyone. Some events have limited spaces so do book early to avoid disappointment. We'd also love to hear your feedback on our planned events – if there is something you'd like to get involved in online to connect with others with CF, please do let us know by contacting enquiries@cysticfibrosis.org.uk. 
More events will be added soon, so keep an eye on our website and social media for the latest updates.
Upcoming events
*Spaces are limited for these events, so please book now to avoid disappointment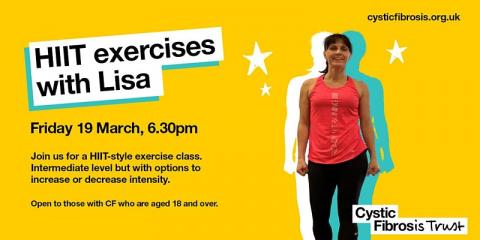 Youth Programme 
Are you a young person with CF, or know someone who is? Take a look at our Youth Programme for information and upcoming events.