The Cystic Fibrosis Trust lottery
Join our charity lottery to win amazing prizes and help us raise vital funds for people with cystic fibrosis (CF).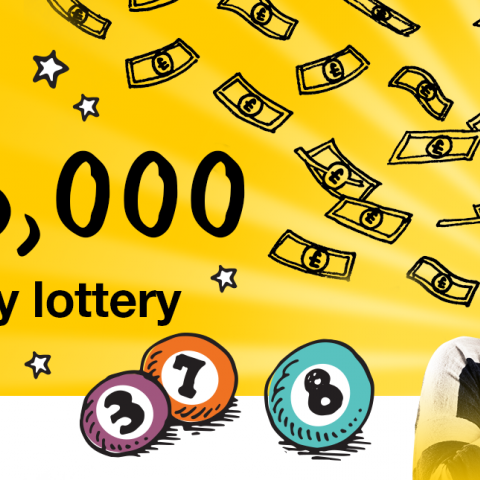 For just £1 a week you can be entered into the new Cystic Fibrosis Trust lottery, with the chance of winning £25,000 every Saturday. What's more, every entry supports people living with cystic fibrosis (CF) and their families.
Sign up
Sign up to our weekly lottery online or download a postal form.
You'll be given a six digit lottery number for each £1 entry, and the more entries you purchase the bigger your chance is of winning!
Unity, the award-winning charity lottery partners, administer the weekly lottery on our behalf, guaranteeing that at least half of your entry will come directly to us to make a difference to children and adults with CF across the UK.
Win prizes!
Three digits in the correct place wins five entries into the next draw.
Four digits in the correct place wins £25.
Five digits in the correct place wins £1,000.
Six digits in the correct place wins £25,000.
Spread the word!
Our weekly lottery offers a great opportunity for you, your family and friends to win prizes, and the more we spread the word the more we can do to support children and adults living with CF across the UK. For example, if just 10 of your friends play £1 a week for a year, it could help pay for costly travel expenses when someone with CF undergoes an assessment at one of the five transplant centres in the UK.
Rules
You must be over 16 years old and live in Britain to play (unfortunately due to gambling legislation we can't offer this opportunity to people living in Northern Ireland).
Read our lottery policy and rules.
FAQs
Have I won?
Have a look here or call 0370 055 2291 to find out if you've won. For enquiries, call 0370 050 9240.

Where does the prize money come from?
Unity, our charity lottery partners, are responsible for paying out prizes. We are guaranteed to receive a minimum of 50p in every £1 entered, and there are no other costs for working with Unity on a yearly basis.
I'm a Weather Lottery player, can I still play?
Thank you so much for supporting people living with cystic fibrosis (CF) and their families through the Weather Lottery. If you're happy to continue playing the Weather Lottery, you don't need to do anything and you'll still be able to play.
With our new Unity lottery, a larger portion of your £1 entry will come directly to us, and you'll have the chance to win even bigger prizes: five digits in the correct place wins £1,000 instead of the Weather Lottery's £250, and the top prize is still a whopping £25,000.
To sign up to the Unity lottery just follow the steps above. To cancel your Weather Lottery payments contact the Weather Lottery online or call 0115 8881222 – they will cancel your payments as soon as possible and let you know your last draw date. Make sure to mention if you've paid for future entries in order to arrange a refund.
If you pay by Standing Order you must cancel directly with your bank.
Find out more about Weather Lottery cancellations (section 9).
Responsible gambling
If you feel you have a problem with gambling, please visit the Gamble Aware website for help and advice, or call the National Gambling Helpline on 0808 802 0133. Lines are open from 8am until midnight.
Research we fund
We fund research to tackle some of the most pressing issues in CF today. Find out how your donations are making a difference.
What is CF?
Cystic fibrosis, or CF, affects the lungs, digestive system and other organs, and there are over 10,600 people living with it in the UK.
Contact us
Get in touch with us to speak to someone on our Helpline, find out about an event or speak to our Press Team.