Edinburgh 10k
A flat, scenic course - perfect for your first 10k or getting a personal best!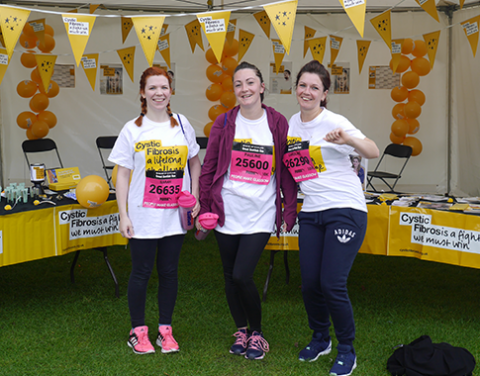 This flat course is the perfect 10k to reach your personal best! 
Entry details
Take advantage of one of our free charity places in exchange for a pledge to support the Cystic Fibrosis Trust with sponsorship of £150 or more.
Alternatively purchase your own place and run for us, just raise whatever you can!
Route details:
Great for those who are ready for a step up, but not quite ready for a half marathon
Starting and finishing near the EMF Hub at Dynamic Earth, this beautiful, scenic route takes place in Holyrood Park in the heart of Edinburgh.
The route offers stunning views of Edinburgh Castle and panoramic views of the city.
The Edinburgh Marathon has sold out every year since 2008 and is the second largest marathon in the UK, behind only London..
Runners start on Queens Drive with a 200m downhill section before heading past the steep sides of Arthurs Seat on your right and Dynamic Earth, The Scottish Parliament and Holyrood Palace on your left. Continuing on towards the 1km mark you will pass St. Margaret's Loch before starting the ascent around the east side of Arthurs Seat.
As you continue the clockwise route around this famous old volcano, you will pass Dunsapie Loch at around 2.5km. Now on the far side of Arthurs seat at 3km runners can enjoy spectacular views of Duddingston Loch below and across the south side of Edinburgh and beyond towards the Pentland Hills.
Approaching the 4km marker you will enjoy a panoramic view of the City. The route then doubles back on itself along Duddingston Low Road at 5km and through Duddingston Village at 6km. The route joins the Innocent Railway Road through 7km and 8km and then heads back up onto Queens Drive.
Passing the 9km it's now downhill all the way, back through the Start Line again and the final 250m dash to the cheering crowds and the finish line on Holyrood Gait.
However you get a place, we promise all runners loads of support and encouragement along the way including:
Team CF running top to wear with pride on the day
Fundraising pack crammed full of ideas
New online interactive Training Zone
Regular team e-newsletters
Cheer points along the route to spur you on!
Are your friends and family coming to cheer you on? Let us know and we'll kit them out with the balloons and banners they need to stand out from the crowd!
Why run for Cystic Fibrosis Trust?
The Cystic Fibrosis Trust is the only UK-wide charity dedicated to fighting for a life unlimited by cystic fibrosis for everyone living with the condition. We are investing in cutting-edge research, supporting clinical care, and campaigning tirelessly on the issues that matter, but we need your help. Together we will beat cystic fibrosis for good.
Charity place
Pledge to raise £150 and join Team CF for this fantastic 10k race!
Got your own place?
If you have applied for a place direct from the organisers (or wish to), you can still use that place to run with Team CF. No minimum fundraising target, just enjoy the run!
The Cystic Fibrosis Trust gave me amazing support when I chose to run for them. Not only were they fantastic in the build up helping me raise sponsorship, but on the day gave me the boost I needed to get a great time!
Jane Smith, previous participant
Fundraising advice
Tips on how you can maximise your fundraising for an upcoming event
Browse all events
Challenge yourself with events on foot, two wheels and even in the air.
Where your money goes
Discover the important work you are supporting with each and every pound you raise.