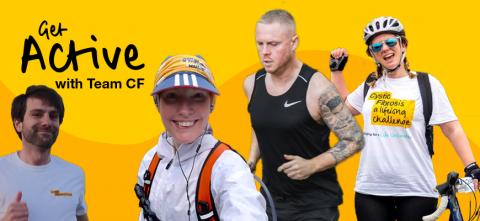 Sign up for free!
Get Active with Team CF today!
Fundraising bits!
Advice, balloons, banners?
Take on a virtual fundraising idea, get active, in a place that's right for you – while helping us fight for a life unlimited for everyone affected by cystic fibrosis (CF).
Choose a challenge that you can do at home or local to you, anywhere, any time – whether that's running or walking around your garden, star jumping in your kitchen, cycling on a static-bike or bouncing on a trampoline. The choice is yours!
Get started
Set yourself a challenge and a fundraising target that will make a difference.
Sign up for free via Enthuse and join the rest of Team CF.
Keep track of your activity, share your page and ask friends and family to sponsor you. When you're done, pass it on – can you inspire them to join Team CF? 
Challenges to do at home 
Without a morning commute, keep up your step-count with a step-challenge that you can do in your local area, in your garden, or even around your home.
Take on a virtual team challenge with friends of family over Zoom or your favourite platform.
Warm up the wintery months by taking on a month-long endurance challenge, like completing a different online exercise class every day.
You can also check out our A-Z of fun challenges to do at home for inspiration.
How will we support you?
Even though we can't be with you in person, we will be there for you in spirit. We'll send you loads of support and encouragement, including:
Team CF merchandise, like t-shirts, banners, balloons (optional)
Digital fundraising pack, full of inspiration and ideas
Access to our Team CF Facebook pages
Training tips and advice from our Personal Trainer, Graeme, plus and some lockdown challenges.
Make a difference
COVID-19 has hit our community hard and has challenged us like never before. We've seen a huge demand for our services, which comes at a time when we're dealing with a substantial drop in our income due to the cancellation of the fundraising events we rely on. This has meant making really tough choices about which projects we can support, including funding ground-breaking research. 
The money you raise from by getting active with Team CF will help us continue our vital work to ensure a future where people with CF can live a life unlimited by cystic fibrosis.