Great Strides™ My Way 40km
Join Team CF for this Great Strides 40km walking challenge at a location your choice
Location

Brecon Beacons National Park, Wales

Get your team together for a walking challenge done your way!
Sign up to Great Strides, My Way 40km
Register for your place in this brand new challenge in 2021.
Want to learn more?
Check out our FAQs on Great Strides, My Way
Event information:
Great Strides™ is the Cystic Fibrosis Trust's team charity walking challenge, taking place across some of the UK's most breathtaking countryside. This year, we are doing things slightly differently so that you can take on Great Strides in your own way!
You can take part in 'Great Strides, My Way' at home, on a treadmill, doing laps around your local streets or by mapping out a route in your local area. You can complete the distance on your own or split it between team members, wherever they are in the world.
What about COVID-19?
Following the continued uncertainty around social restrictions due to COVID-19, sadly we had to make the difficult decision to cancel our Brecon Beacons event. By taking on the virtual Great Strides, My Way, you and your team can complete the event safely by following the restrictions in your area.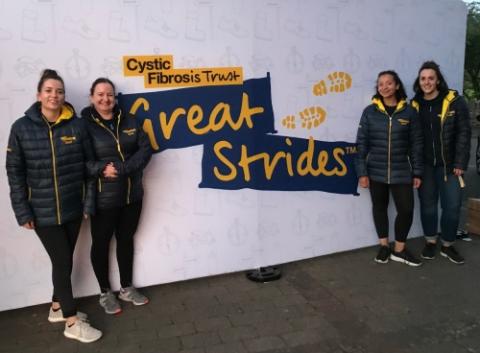 Want to know more?
Get in touch with our Great Strides team on 020 3795 2176 or send us an email.
What will I get as a Great Strides participant?
A bespoke Great Strides tech top and wooden medal
An online fundraising pack with loads of tips and ideas
Access to our exclusive training hub with training plans, nutrition and injury prevention advice from Graeme at GH Training
A supportive Team CF Facebook community sharing ideas and advice
Regular e-newsletters to keep you up to date with the event information and the Trust's work
An enormous sense of achievement knowing that you have made a huge difference for the thousands of people affected by cystic fibrosis.
Four reasons to sign up to Great Strides, My Way
1. Make a difference
Your fundraising will help us to support people living with CF in the UK and fund ground-breaking research into the condition. £1,000 could pay for one week of PhD lab research as part of one of our Strategic Research Centres, or could empower a person with CF to develop their passion, creative hobby or skill into a new business idea through our Helen Barrett Bright Ideas Awards.
2. Spend time with friends and meet new people
Getting involved in a sponsored walk like Great Strides is incredibly sociable. During your training and on the day, you will spend lots of quality time with your family and friends together as a team. 
3. Get fit!
If you do enough training the likelihood is that you'll be in better shape before you even start your challenge – not to mention how great you'll feel after!
4. And feel amazing!
By completing Great Strides, My Way you will have incredible memories from the day, you'll have helped a worthy cause and you'll have an amazing sense of achievement.
Want to take on 65km?
Sign up to Great Strides, My Way 65km on 12 June
Interested in 2022?
Let us know if you want to take part Great Strides Brecon Beacons in June 2022 and we'll get in touch when event registrations open.
Where your money goes
Discover the important work you are supporting with each and every pound you raise.
Take a look at some of the pictures from Great Strides Brecon Beacons!