Are you ready to take Great Strides your way?
Conquer 40km or 65km of beautiful mountains, local parks, or cities and fundraise for the Cystic Fibrosis Trust.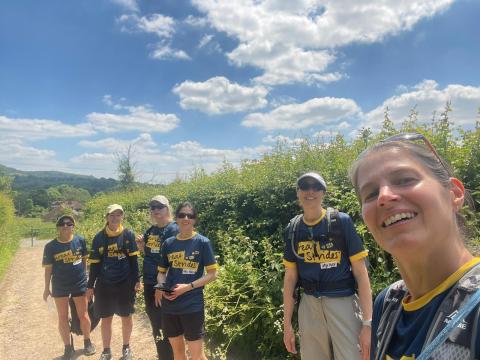 Gather your friends, families and colleagues or opt for a solo adventure - and enjoy creating your own  route while fundraising for a fantastic cause. 
We'll provide you with all the guidance and support you need before and during your walk, location ideas, timings, how to organise your group in a relay and not to forget you will get a bespoke Great Strides My Way t-shirt & medal! 
Whether you're an experienced hiker or adventuring out for the first time, all abilities can accept this challenge and don't forget you could split the difference between your team!? There's no time like the present – sign up today, lace up your boots and get striding! 
Registrations for 2022 are now closed.
Great Strides My Way FAQs
Contact
Get in touch with our Great Strides team on 020 3795 2176 or send us an email.