Great Strides™ 65 Ultra Marathon
Take on this epic 65km ultra-marathon through stunning scenery with Team CF!
Location

Surrey Hills Area of Outstanding Natural Beauty

Fundraising target

No minimum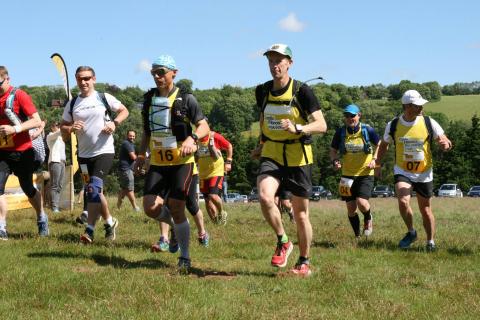 Take on the Great Strides™ 65 charity Ultra Marathon route this year and see the Surrey Hills - Area of Outstanding Natural Beauty! 
Information Pack 
Map of route
Route profile
 Due to COVID-19, sadly we have had to make the difficult decision to cancel the Great Strides 65 Ultra Marathon in 2020.
Registrations are now closed
Event Details
Register from 9:00am for the 9:30am start, and you're off on your charity ultra challenge through the beautiful Surrey countryside!
The challenge begins and ends, on the Hampton Estate, just outside Seale. You will travel along the North Downs Way as far as Moor Park (close to the edge of Farnham). The route then takes you south to Tilford and crosses Hankley Common, before a long climb up to the Devil's Punchbowl on the edge of Hindhead. Having skirted the edge of the Punchbowl, the route drops under the A3 before climbing to Bowlhead Green.
From there, the route passes through Hambledon and the edge of Hascombe before crossing the Wintershall Estate and turning north along the Downs Link to Bramley. Once you have passed around the north of Chinthurst Hill, the route climbs up to Blackheath before dropping down to the Tilling Bourne - next to the old gunpowder mills - for the steepest climb of the route: Chilworth Manor to the top of St Martha's Hill (maximum gradient 31.1%!).
From St Martha's, the route leads back along the North Downs Way, passing through the edge of Guildford and crossing the Loseley Estate before reaching Puttenham. The finish is reached after a short climb to the top of Puttenham Common. 
Minimum age: 20 years.
All runners will be required to certify their fitness to participate in the event, both at the time of entry and at registration on the day.
We recommend you aim to finish within 10 hours.
This is a self-navigated route (*.gpx and *.kml files available).
GPS tracking.
Chip timing.
Race paramedics will be available throughout the event.
Approximately 65km (40 miles); total climb: approximately 3,800 feet.
Seven intermediate feeding stations at approximately 5-6 mile intervals.
Minimum requirements for kit will be detailed in the information pack which all entrants will receive.
Hot and cold food/drink will be available at the start/finish of the hike.
There will be portaloos at some checkpoints, and public toilets at others.
There are mainly marked footpaths (expect loose stone, sand, rock, mud and potential boggier sections depending on the weather); some short road stretches. Trickier sections of the course will be marked with red and white tape. Road stretches and crossings will not be marshalled (although caution walker/runner signs will be deployed to alert drivers); it will be the responsibility of the runner to self-navigate and negotiate such crossings/stretches successfully. Further details will be given in the information pack which all entrants will receive.
Please note: there is no minimum fundraising target for this event, but please do raise as much as you can to help us beat cystic fibrosis for good. 
If you're one of the lucky 65 people to get a place, here's how we'll support you:
Fundraising pack and ideas
New online interactive training zone
Team e-newsletters
Exclusive GS Ultra Medal!
Exclusive GS Ultra technical top to wear while taking part in the event
Trophies for 1st and 2nd place male, female, veteran male, and veteran female
In 2017, well-known ultra runner Kirk Hardwick took on the inaugural Great Strides 65 Ultra and became the event's first winner!  Read more about his journey through the Surrey Hills Outstanding Area of Natural Beauty.  
Why run for Cystic Fibrosis Trust?
Cystic fibrosis is a life-limiting condition. We're dedicated to funding research, providing information and support, and campaigning hard on the issues that matter to everyone affected by cystic fibrosis. With your help, we can beat CF - for good.
As we emerged from the woods the organisers erupted in applause, making the whole thing even more overwhelming… I had a day I'll never forget and enjoyed every high and low throughout.
Great Strides 65 Ultra participant
Fundraising advice
Tips on how you can maximise your fundraising for an upcoming event
Browse all events
Challenge yourself with events on foot, two wheels and even in the air.
Where your money goes
Discover the important work you are supporting with each and every pound you raise.
Take a look at some of the pictures from our Great Strides Ultra Marathon!