Ironman Challenge
Endurance and a high level of fitness are required for the epic challenge!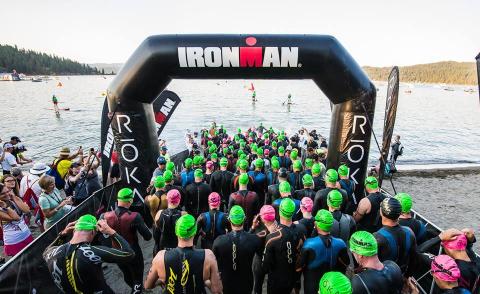 Sign up!
Register for your Ironman Challenge today
Let us know!
Get in touch if you are fundraising as a part of Team CF.
Why take part in the Ironman Challenge?
If you're thinking about taking on an Ironman, Team CF salutes you!  An Ironman Challenge consists of a 2.4-mile swim, a 112-mile cycle and a marathon 26.2-mile run. Life-changing, all-encompassing and limit-pushing, these long distance triathlons will put an athlete to the test. Whichever Ironman you fancy, either in Bolton, Pembrokeshire or somewhere else, we will provide as much support with your fundraising as we can. For any questions about the event itself we recommend you get in touch with Ironman directly.
Full Ironman: 2.4 mile swim, 112 mile cycle, 26.2 mile marathon run
Ironman 70.3: 1.2 mile swim, 56 mile cycle, 13.1 mile half marathon run
What do I get as part of #Team CF
However you decide to support the Cystic Fibrosis Trust we will support you every step of the way with:
A personalised Team CF top 
An online fundraising pack with loads of tips and ideas
Access to our exclusive training hub with training plans, nutrition and injury prevention advice from Graeme at GH Training
A supportive Team CF Facebook community sharing ideas and advice
Regular e-newsletters to keep you up to date with the event information and the Trust's work
Volunteer with us
If you have any family and friends who'd like to come and support you on the day, we'd love them to join our volunteer team! 
The support I received from friends, acquaintances and colleagues was outstanding! My phone leading up to, during the race and once finished was lit up like a Christmas tree with calls and texts congratulating me. I'm forever grateful for the support.

Tom
Fundraising advice
Tips on how you can maximise your fundraising for an upcoming event
Browse all events
Challenge yourself with events on foot, two wheels and even in the air.
Where your money goes
Discover the important work you are supporting with each and every pound you raise.