Step Forward
Walk your way to help beat cystic fibrosis (CF). Join our walking challenge, wherever you are, on a date and time that suits you!

Register for Step Forward
It's time to put on your walking boots for Team CF!
Any questions?
Contact the Events Team for support with planning and fundraising for your challenge.
Whether you set yourself a daily step target or pick a distance to complete in your local area, Step Forward to help us beat cystic fibrosis. 
When you hit £150 on your fundraising page, you'll receive a Cystic Fibrosis Trust reusable water bottle to help you keep hydrated on your walk!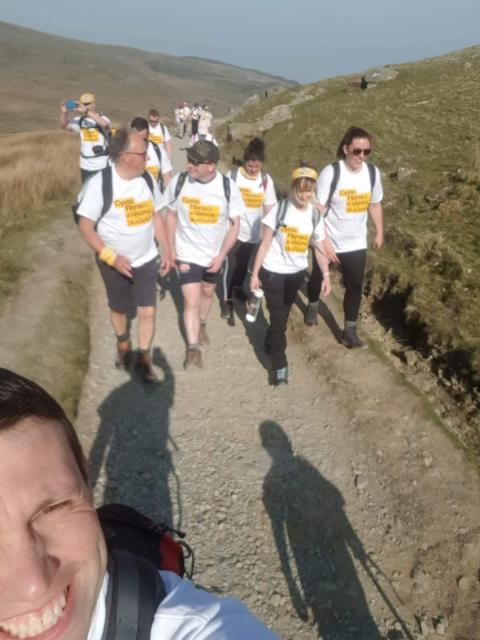 Get inspired
You can create a walking challenge that's right for you – just remember to follow local COVID-19 guidelines. Here's some inspiration for different types of walking challenges:  
Do 10,600 steps every day for a month – one step for every person in the UK living with cystic fibrosis. 

Get a team together to walk 20 laps around your local park. 
Tackle a local hill or mountain. 

Set a distance target that you will reach over an entire month.  

Create a relay between family and friends – together, can you hit 65 miles in one day? 

Feeling creative? Compete with friends to draw the best map picture using a route tracking app like Strava. 
Fundraising pack
Tips on how you can maximise your fundraising for your Step Forward challenge.
Training tips
Everything you need to prepare for your walk.
Schools pack
Are you a parent or teacher at school? This schools pack has everything you need to help plan your walking fundraiser.
Download posters and Instagram stories
 It's not that difficult to arrange a fundraising walk - simply plan a route, plan the date to give you the best weather, put it all over your social media platforms and send a message to everyone you know asking for sponsorship. Above all....have fun doing it!

Matthew
What do I get as part of Team CF?
Even though we won't be with you in person, we will still be there for you every step of the way. We'll send you loads of support and encouragement, including: 
Team CF merchandise, like t-shirts, banners, balloons (optional) 
Fundraising tips, inspiration and ideas 

Social media images to help share your challenge with your community 

Access to our Team CF Facebook pages 

Training tips and advice from our Personal Trainer, Graeme