Fundraising target

As much as you can!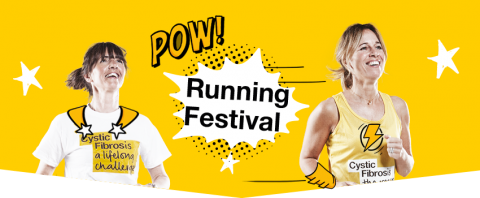 Sign up to the Running Festival!
It's time to put on your running shoes for Team CF!
Training tips
Download our Runners Booklet to help you smash your training and fundraising.
Get those running shoes laced up and get ready for our second Team CF Running Festival, taking place throughout April. 
How do I sign up to the Running Festival? 
1. Sign up for free via Enthuse and join our Team CF runners. 
2. Decide on a distance and a fundraising target and update your Enthuse fundraising page.  
3. Enjoy your journey with our free training and fundraising tips. Remember to keep track of your activity via Strava and share your page with friends and family! 
4. Complete your run anytime in April, whether that's on a chosen day or throughout the month. 
5. Celebrate your achievement! Post a runners selfie in our Team CF Facebook group and let those who sponsored you know by updating your fundraising page. 
Make sure to like the Team CF Facebook page to share pictures, receive training tips from our Personal Trainer Graeme and meet other runners taking part in this challenge.
How will we support you? 
Even though we can't be with you in person, we will be there for you in spirit. We'll send you loads of support and encouragement, including: 
Team CF merchandise such as t-shirts, banners, balloons to help you fundraise (optional; you can also order this when you sign up) 

A digital fundraising pack, full of inspiration and ideas 
Access to our Team CF Facebook page, to share training tips and motivation with other runners in the CF community 

Training tips and advice from our Personal Trainer, Graeme, plus some lockdown challenges. 
Make a difference for people with cystic fibrosis 
With ongoing COVID-19 restrictions and uncertainty across the country, it's more important than ever that we're here for the CF community. The money you raise from by taking part in the Team CF Running Festival will help us continue our vital work to ensure a future where people with CF can live a life unlimited by cystic fibrosis. 
Everyone's welcome to join Team CF and every effort counts! Find out more about what being part of Team CF means and the support you'll get.
 I was doing the odd run here or there and then I started looking at virtual runs and 10km events, which was just what I needed to focus on to stay on top of my physical health and improve my mental health as well.
Craig
Get Active with Team CF
Choose your own at home fundraising idea, get active while raising as much money as you can for the Cystic Fibrosis Trust.
Runners booklet
We've put together a Runners Booklet, full of tips and tricks to help you on your journey (3.13MB)
Where your money goes
Discover the important work you are supporting with each and every pound you raise.