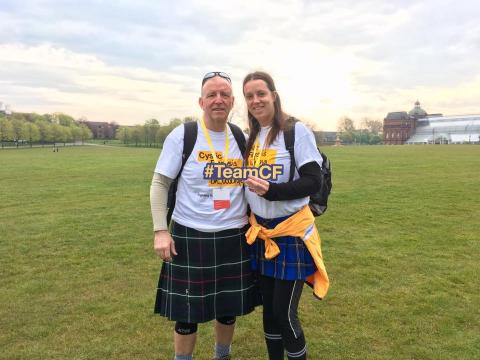 The Aberdeen route starts off in the city; leaving Duthie Park at around 9am and heading out into the Shire, giving Walkers a rare chance to see everything Aberdeen has to offer whilst taking part in an unforgettable experience.
Date: June 7 2020
Times: 9am
Location: Aberdeen
Cost of entry: Various prices (depending on distance)
Fundraising target: Raise as much as you can for the Cystic Fibrosis Trust
Entry details:
Any person under the age of 16 wishing to participate in the event must be accompanied by an adult and obtain the written consent of their parent or legal guardian in the form provided by the Kiltwalk for participation in the event and provide the Kiltwalk with a copy of such consent along with their registration form.
5 miles - Wee Wander. Minimum age for entry - 5 years old.
14 miles - The Big Stroll. Minimum age for entry - 10 years old.
26 miles - The Mighty Strides. Minimum age for entry - 13 years old.
Leaving Duthie Park bright and early at 9am, the Mighty Stride immediately joins the Deeside Way and makes its way west through the City to West Cults before heading to Peterculter. The walk continues west out of the city and into the breath-taking scenery of the 'shire' before reaching Drumoak where our Big Strollers join the fun. Both walks then move onwards to Crathes, further into the wild! At Crathes our walkers visit Milton Park before moving onto Banchory where The Wee Wanderers get in on the action. The route then crosses the famous River Dee and enters Blackhall Forest, where the walk winds its way up to Shooting Greens. Then it's all downhill from here! Our walkers then follow the old military road to our end site – The Kiltwalk Village at Potarch Green which forms part of the stunning Ballogie Estate.
Here, our walkers can enjoy a very well earned drink, a hot meal and all the entertainment and excitement found at the Kiltwalk Village.
You will be invited set up an Everyday Hero fundraising page during registration - please ensure you do this as The Hunter Foundation will top up all donations received via this method by a fabulous 40%!
Ready to take your first step?
Sign up for any Kiltwalk Aberdeen distance here.
Fundraising advice
Tips on how you can maximise your fundraising for an upcoming event
Browse all events
Challenge yourself with events on foot, two wheels and even in the air.
Where your money goes
Discover the important work you are supporting with each and every pound you raise.