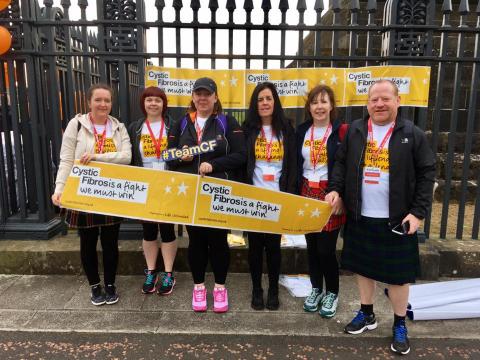 Last year in Glasgow, over 10,000 walkers took part in the BIGGEST EVER Kiltwalk! Become a Kiltwalk Hero in 2020!
Date: April 26 2020
Times: 9am
Location: Glasgow
Cost of entry: Free for one of our charity places in The Mighty Stride. Various prices for your own place (depending on distance).
Fundraising target: £165 sponsorship pledge for one of our charity places
Entry details:
Any person under the age of 16 wishing to participate in the event must be accompanied by an adult and obtain the written consent of their parent or legal guardian in the form provided by the Kiltwalk for participation in the event and provide the Kiltwalk with a copy of such consent along with their registration form.
6 miles - Wee Wander. Minimum age for entry - 5 years old.
15 miles - The Big Stroll. Minimum age for entry - 10 years old.
23 miles - The Mighty Strides. Minimum age for entry - 13 years old.
Apply for a charity place
Become a Kiltwalk Hero and sign up to the Glasgow Kiltwalk Mighty Stride. Help us beat cystic fibrosis for good.
Ready to take your first step?
Sign up for any Kiltwalk Glasgow distance here.
Fundraising advice
Tips on how you can maximise your fundraising for an upcoming event
Browse all events
Challenge yourself with events on foot, two wheels and even in the air.
Where your money goes
Discover the important work you are supporting with each and every pound you raise.