Events in your area
Community Development & Fundraising team
0203 7952 176
We are here to help you with any aspect of fundraising, and would love to hear about any events you are planning
Please contact us if you need any support or information about the following events.
For events in other parts of the country or overseas visit the relevant regional page or take a look at our Join an Event section.
For more information on our national events, contact our Events Team.
Want to set up your own Fundraising Support Group?
Get in touch anytime, I'm here to help make it happen.
Contact Serena Wilson 07813 455902.
---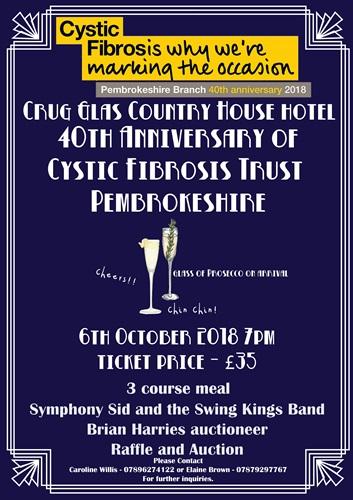 Crug Glas Country House Hotel 40th Anniversary of Cystic Fibrosis Trust Pembrokeshire
Date: 6th October 2018, 7pm
Ticket price: £35
3 course meal
Symphony Sid and the Swing King's Band
Brian Harries auctioneer
Raffle and auction
Please contact Caroline Willis - 07896274122 - or Elaine Brown - 07879297767 - for further inquiries.
---
North Staffordshire Branch
If you have any events taking place in, near or around the Crewe or Nantwich area, please do contact the North Staffordshire Branch about your fundraising!
Fran Foster can be contacted on email or on 01270 842 984. 
---
Hi5 Talk Time Cafe
If you live in the North Cornwall area and have a child under 5 with CF, then you can drop into the Hi-5 Talk Time Pop-Up Cafe any Tuesday in term time between 10.30-12.30 at 35 The Strand, Bude.
Here you'll find a safe play area for your child and the opportunity to have a friendly chat over a cuppa and cakes. Due to our Cross Infection Policy only one child with CF can attend each session, so please email Carolyn to book your place: hi-5talktimecafe@hotmail.com
The Cafe may 'pop-up' in different locations so please check out Hi5's Facebook page for meeting details!
---
Edge Hill 3K Fun Run - The Sports Centre, Edge Hill University, Ormskirk, L39 4QP
On the 14th of October come along Run, Jog, Walk a 3K route and receive your medal! Then join in the fun on the campus with entertainment, refreshments and photo opportunities on the winner's rostrum.
Registration open from 9.30am, race starts at 10.30am. 
Enter online Here
---
Somerset Branch's Hollywood Ball
Join our Somerset branch at their black tie Ball on the 13th of October 2018 at the Somerset County Cricket Ground, Taunton TA1 1JT
Tickets are £45 and include a three course meal, dancing, an auction casino and music from Toutes Direction. Drinks reception starts at 6.30pm and carriages at 1am.
For more details contact Pauline  on 01460 240 092 or email on carly@tbdp.co.uk
---
PSL Open Day 
Looking for something to do with the family? On the 13th October Peter Leadbeater will be holding his annual Open Day at Game Bird Pub - East Lancashire Rd, Eccleston, Saint Helens WA10 5QN
This is the eighth year in a row that Peter will be holding his fab event, so if you are in the area please do swing by and enjoy music, a raffle, BBQ and a DYNO shootout!
---
Research we fund
We fund research to tackle some of the most pressing issues in CF today. Find out how your donations are making a difference.
What is CF?
Cystic fibrosis, or CF, affects the lungs, digestive system and other organs, and there are over 10,600 people living with it in the UK.
Contact us
Get in touch with us to speak to someone on our Helpline, find out about an event or speak to our Press Team.