Research - what the CF?
This week, we'll be exploring some of the key research you should know about and demystifying the work that is making a difference to you.
We are currently investing millions of pounds into cystic fibrosis (CF) research (leaving room for our vital work in clinical care, campaigning and information & support!). But what does this mean in real terms? Throughout CF Week we'll be talking about how we use the money you raise, and how it's making a difference for people living with CF now - and in the future.
Every little counts
Cystic fibrosis was only discovered in the 1930s, but since then there have been a number of breakthroughs (both large and small) that have helped improve and extend the lives of people with cystic fibrosis. Some of these breakthroughs have led directly to treatments and changes in care. Physiotherapy is just one of many examples, having been used to help people with CF since the 1950s. Almost every piece of research into cystic fibrosis has, in one way or another, paved the way for the research projects that followed.
Every piece of research increases our understanding of this complex condition – even projects that don't produce the expected results are significant, helping researchers to rule out theories that don't hold up and adjusting their focus.
Research saves lives
It may be hard to imagine the combined effect of all the different research projects taking place around the world, those that have gone before and those going on right now. That's why we've tried to help, with this nifty diagram!
The effect of research breakthroughs on the median survival age of people with cystic fibrosis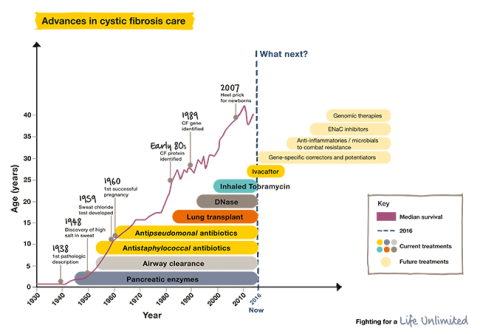 Some of these terms may be a little hard to get your head around (bear with us, we'll get to this!) but what you can see is that research projects are having a huge effect on the life expectancy of those living with cystic fibrosis. They're also helping improve the quality of life – do you remember having to pour digestive enzymes on your meals, and watching the food dissolve before your eyes? Talk about hard to stomach; but, thanks to research, we now have Creon!
So where are we now?
Our five-year research strategy focusses on cutting edge research and innovation to improve and extend lives. Some research will take years to come to fruition, and some will have an impact on people today. Research ranging from the spread of Mycobacterium abscessus to practical ways people with CF can make a difference to their health, such as tai chi and exercise, will lead to very real and immediate benefits.
What does the future look like?
We're on the cusp of something momentous. Developments in genetic science like gene editing and gene therapy are offering us long-term hope for beating cystic fibrosis. At the same time we are investing in cutting-edge stem cell research, and exploring the potential of health technology.
As we all know, CF isn't just about lungs, and neither is our research. We're investing in research into all aspects of life with CF so that we can shape a future in which everyone born with cystic fibrosis can truly look forward to life unlimited by their condition. Already this year we held a hugely exciting research sandpit looking into challenges for people with CF around the gut and digestion, and we're looking forward to similar events in the future.
CF Week 2016
Every research project begins with you:
Your time – Why not take on one of our running events or take part in our fantastic summer raffle; every ticket you buy or sell will make a difference.
Your money – whether you make a one-off donation, set up a direct debit or leave a gift in your will, we promise that whatever you can spare will go a long way.
Your voice – find out more about our campaigns and keep an eye out for ways to get involved and add your voice to our call for fairer treatment for people with cystic fibrosis.
Life Unlimited
A future where cystic fibrosis no long places limits on the lives of people with cystic fibrosis is essential. We won't stop until we get there.
Our research
We believe that research holds the key to beating cystic fibrosis for good, and we're investing millions into scientific projects to make it happen sooner.
CF News
Check out our latest news video explaining some of the most exciting pieces of research that we're currently funding, and keep an eye out for other announcements during CF Week.