Great Strides

Great Strides™ is the Cystic Fibrosis Trust's team charity walking challenge, taking place across some of the UK's most breathtaking countryside. This year, we are doing things slightly differently so that you can take on Great Strides in your own way!
You can take part in 'Great Strides, My Way' at home, on a treadmill, doing laps around your local streets or by mapping out a route in your local area. You can complete the distance on your own or split it between team members, wherever they are in the world.
Choose your distance and help us fight for a life unlimited by cystic fibrosis with a unique fundraising adventure.
Choose from two distances:
Each place costs £35 per person. By signing up, you'll get support with training, full access to the leader boards, a walkers top to wear on event day and a medal after you have completed your walk.
We recommend a minimum fundraising target of £250 per walker for this event and will be here to support you with fundraising ideas and tips along the way.
What about COVID-19?
Following the continued uncertainty around social restrictions due to COVID-19, sadly we had to make the difficult decision to cancel our normal Surrey Hills and Brecon Beacons events. By taking on the virtual Great Strides, My Way, you and your team can complete the event safely by following the restrictions in your area.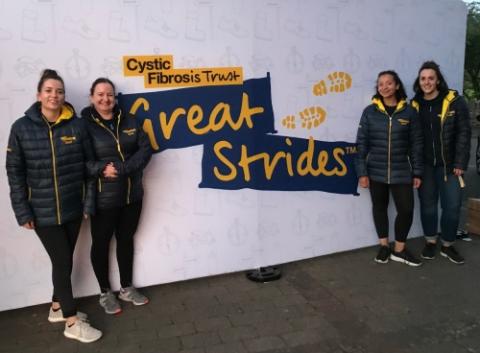 Want to know more?
Get in touch with our Great Strides team on 020 3795 2176 or send us an email.
Looking for a different challenge?
Whether you're planning to run, cycle, swim, walk or even abseil down a building in 2021, you'll be helping us to fight – and ultimately beat – this life-limiting condition.
What is CF?
Cystic fibrosis, or CF, affects the lungs, digestive system and other organs, and there are over 10,600 people living with it in the UK.
Where your money goes
Discover the important work you are supporting with each and every pound you raise.