Ultra challenges
The name says it all - these are next-level challenges for people who are serious about going the extra mile for a life unlimited!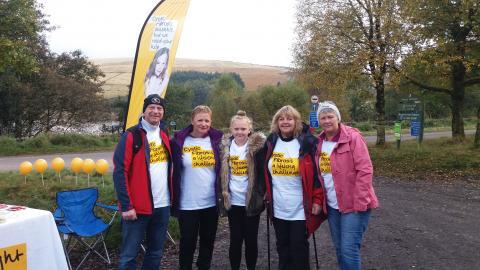 What is an ultra challenge?
We've got a range of challenges, from a 106km (24-hour) Isle of Wight trek to a 50 or 100km ramble along the Thames Path. These events require training and planning, but they're incredibly rewarding and give you lots of time to put your fundraising skills to the test. We have events for teams or individuals and if you're keen but cautious some offer a half-distance option.
How will you support me?
We'll be there for you every step of the way! You'll receive a personal training plan and access to our online participant area, as well as plenty of fundraising advice and newsletters in the run up to the event, and on the day we'll make sure you're well looked after by the event organisers with hot meals, a well-signposted route and physiotherapy at the end. You'll also get your very own Team CF top to wear with pride on the day!
What's the motivation?
These events raise awareness of cystic fibrosis and vital funds to help us invest in research and provide information and support to everyone affected by the condition. We're absolutely in awe of everyone who takes part and we can't wait to welcome you to Team CF!
What's the deal?
Each distance has its own registration fee that is paid to the race organisers, this place is yours along with a pledge for you to raise a certain amount of money for the Cystic Fibrosis Trust! 
Full challenge: £70 or £80 registration with £425 pledge 
Half challenge - £60 registration with £275 pledge
Quarter challenge - £40 registration with £175 pledge
GET YOUR 50% OFF ENTRY THIS NEW YEAR UNTIL 11 FEBRUARY 2018! Click on the links below for more specific event information, and follow them through to registration! 
Cotswold Way Challenge
Walk, run or jog 100km of the Cotswold Way, starting in historic Bath and finishing in Cheltenham.
Jurassic Coast Challenge
Join this scenic 100k, 50k or 25k route from Poole to Bridgeport along Dorset's fabulous Jurassic Coast!
Wye Valley Challenge
Take on the dramatic landscape straddling the England and Wales border with multiple distances available.
Isle of Wight
Choose from a range of distances and start times for this unforgettable Bank Holiday weekend walk.
London2Brighton
A range of distances are available for this tough but achievable jaunt across the North and South Downs.
South Coast
Pick from 25, 50 or 100km of beautiful scenery and crisp sea air for this challenge of a lifetime.
Thames Path
See London in a different light with up to 100km of culture and history along the way.