Steve's story
Steve contacted the Cystic Fibrosis Trust in 2015 after hearing about our Health and Wellbeing grants, which help people with cystic fibrosis (CF) to access goods and services that will help improve their health and quality of life.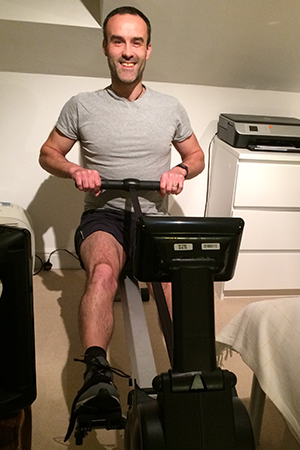 Following the birth of his son in 2014, Steve, who has cystic fibrosis (CF), was finding it more difficult to find the time to do as much exercise as he had been used to doing, and his lung function started to drop. Steve had been working hard on getting out running, but with winter approaching he was concerned that he wouldn't be able to keep this up, so he contacted us to see if we could help him with a health and well being grant with which to buy a rowing machine. His old rowing machine was falling apart and he needed a way to exercise conveniently at home. His application was assessed by our panel and they awarded him a grant of £350. 
Steve: "I have always been a sports' lover, which I feel quite thankful for as my lungs definitely benefited from all the running around that I have done through my life! It was easy to be active while I was at school but since then I have had to make sure that I keep the habit of exercise. A few months ago I saw the Cystic Fibrosis Trust's announcement about Health and Well being grants. My eyes lit up! I emailed straight away – the team at the Trust were so helpful in helping me apply for the grant, although the forms were not long or difficult to fill in. 
"I'm so pleased that the panel approved my application - I have a new rowing machine, in time for the onset of winter! My lung function has dropped over the last two years but for a very joyful reason - our son was born in March 2014 so it's been a busy time trying to adapt to our new life and routines, and spend as much time as possible with my family! But that means I have had less time to exercise and my lung function has definitely taken a hit. My new rowing machine is an integral part of putting that right. During the spring and early summer I have been able to run more and my lungs are loving it! Without the rowing machine, I'd risk losing those benefits as it would have been so easy to be inactive over the winter. I've now used 'The Beast' half a dozen times and I'm really starting to feel the benefits of having it. My physio is noticeably different after I've had a row. All in all, I'm delighted. Thank you to the Trust for giving me the opportunity to give my health a boost with this new rower."
The Trust awards grants to pay for items like exercise equipment to help with staying active, fridges to help with storing medicines or bulk-bought foods to assist with the calorie demands of cystic fibrosis or washing machines to prevent the need for repeated trips to a launderette with heavy loads of washing. If you or someone you know is interested, why not find out more about how our range of grants and how to apply? 
During spring and summer I have been able to run more and my lungs are loving it! Without the rowing machine, I'd risk losing those benefits as it would have been so easy to be inactive over winter.

Steve