More than CF
In the Youth Advisory Group (YAG), we believe it's important to celebrate the amazing things young people with cystic fibrosis (CF) can do. We are calling on children and young people with CF to share their passions and creative pieces for our latest project 'More than CF'.
Especially now, when it's easy to feel like you're just part of a category, it's important to celebrate what makes you unique and to take time to do the things that you enjoy.
Our latest project "More than CF" is about bringing young people with CF together, to show everyone that we're so much more than our condition. Show us your passions or skills, what you're learning or what makes you happy or proud and we'd love to post it on our Instagram as part of this project!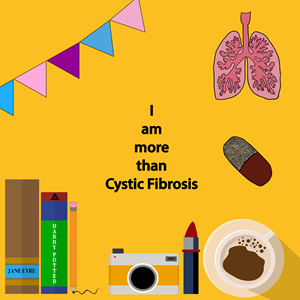 This could be:
Art, of all forms
Pottery or woodwork
Singing, song-writing or music
Creative writing
Performing arts
Science experiments
Dance
DIY and decoration
Inspiring exercise ideas
Coding
Get involved 
To get involved, please send your creations to cfyouth@cysticfibrosis.org.uk and we will share them on our Instagram page. You can also share them on your own social media and tag us, or use the hashtag #morethancf.
By sending us your (or your child's) picture/video etc you are agreeing to us re-sharing it on our Instagram. If you are under 13 years old please make sure your mum, dad or carer sends us your creation from their email address. Please tell us if you would like us not to publish your first name with your creation.
Please remember not to use any swear words or say anything offensive. We will try our best to share all your creations as they are but sometimes we might need to ask you to make some changes such as tips for filming or advice on word count, so keep in mind the following guidelines:
Images: maximum number is 10
Video: please keep below 1 minute
Text: please aim for a word count of 500 words or less
We can't wait to see what you come up with!
Youth Advisory Group
Our Youth Advisory Group (YAG) is a way for young people with CF aged 14-25 to influence the work of the Trust and have their voices heard.
Information and support
We've got loads of information and support made by and for young people with cystic fibrosis.
Youth programme
From Games Nights, to free online skill workshops, to movie nights, our youth programme has something for everyone.