Emergency appeal

We need your help 
This is a time of great anxiety for many people with cystic fibrosis. Many of the CF community will currently be 'shielding' themselves or their loved ones, or you will know someone who is.
At the Cystic Fibrosis Trust, we are doing all we can to try and support people with CF and their families through this unprecedented time:
We are providing emergency support through our helpline and grants, which are more in demand than ever.
We are helping the community to support each other in this time of isolation with virtual events and activities.
We are working with the UK CF Medical Association to provide the most up-to-date guidance on how people with CF and their families can stay safe.
We are demanding that governments and supermarkets do all they can to provide for basic needs.
We have seen an enormous increase in the demand for our services. We want to help every single person who needs us, but we are facing tough choices. This comes at a time when we are facing a substantial drop in our fundraising income as we have had to cancel and postpone a number of events and fundraising initiatives.
Please consider making a donation today to help us continue our work.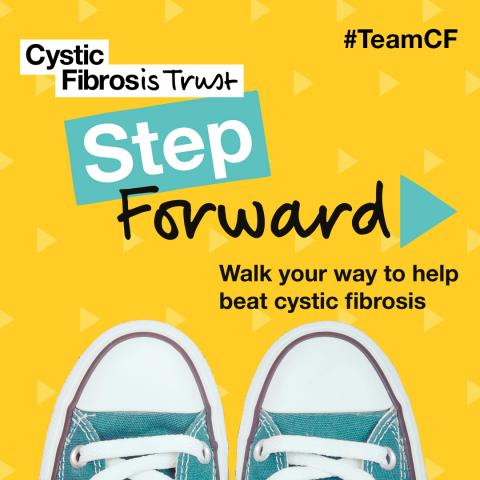 Other ways you can help 
Step Forward – walk your way to help beat cystic fibrosis
Join our walking challenge, wherever you are, on a date and time that suits you! Whether you set yourself a daily step target or pick a distance to complete in your local area, Step Forward to help us beat cystic fibrosis. 
When you hit £150 on your fundraising page, you'll receive a Cystic Fibrosis Trust reusable water bottle to help you keep hydrated on your walk!
Coronavirus help and advice
Find all the information and support about shielding, finances and welfare, your CF care, and mental and physical health, all in one place.
Coronavirus updates and FAQs
Important information for people affected by cystic fibrosis about coronavirus (COVID-19), and the latest guidance on how to stay safe.
Financial support and welfare advice
Resources and information from the Trust, as well as useful external websites and services, that can provide financial and welfare support to families living with cystic fibrosis during this time.