Let's protest for Orkambi
Show your support on Wear Yellow Day (22 June) by wearing yellow and joining a protest for Orkambi in your area.
A day of national protests was held across the UK in June 2017 calling on the Government to address the issue of access to precision medicines for people with cystic fibrosis (CF).
On June 22 this year, community-led protests will highlight that one year on, people living with CF are still waiting for access to Orkambi.
A year is long time for people with cystic fibrosis and as part of CF Week, the Trust is supporting community action calling for a speedy resolution to the negotiations.
Where?
London - protest march at 11:45am, meeting at Paddington Station, Grand Union Canal Exit (please arrive promptly).
Belfast - protest from 12-1pm meeting outside Belfast City Hall.
What shall I wear?
Yellow! This year's protests will take place during CF Week on Wear Yellow Day, so we strongly encourage you to wear yellow so that we can raise as much as awareness as possible at all the locations.
Remember to share and tweet your photos using #CFYelfie. Let's help turn social media yellow! You can also send your pictures to our Public Affairs Team.
Cross-infection
We request that people with CF do not attend the community-led protests due to the risks of cross-infection. For more information, please read our cross-infection policy.
We need you...
To ensure we can help get as much coverage as possible for Wear Yellow Day please share your story and send us a short video or post on social media using #OrkambiNow (around 5–10 seconds long) explaining why a year is a long time in CF and what you have experienced in the last year. It could be a decline in your lung function, the number of days spent in hospital or something else. Tell us what a difference a year makes in your life.
Questions?
For more details about protests please email the organisers, CF Support Group.
Tell your story
Download our press release templates to help you to tell your story to the media and explain why you are taking part in the community-led protests in London and Belfast.
Take a look at last year's protests...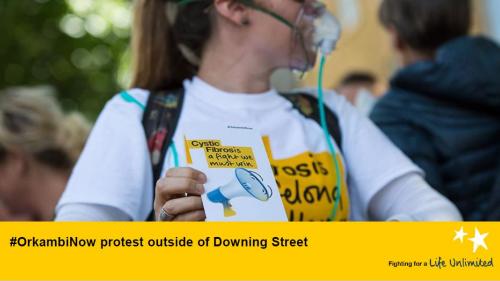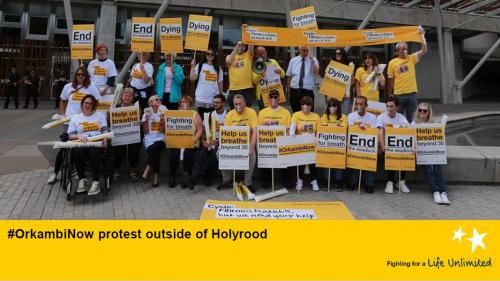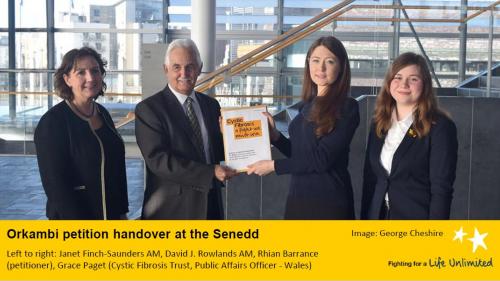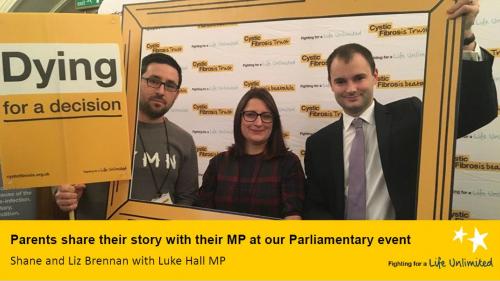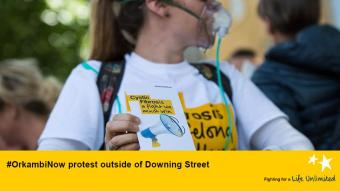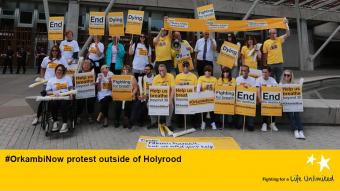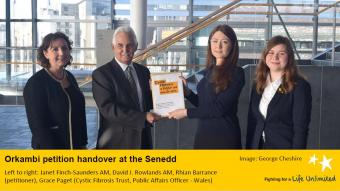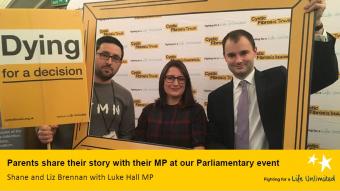 Research we fund
We fund research to tackle some of the most pressing issues in CF today. Find out how your donations are making a difference.
What is CF?
Cystic fibrosis, or CF, affects the lungs, digestive system and other organs, and there are over 10,600 people living with it in the UK.
Contact us
Get in touch with us to speak to someone on our Helpline, find out about an event or speak to our Press Team.