Trials Accelerator Impact Report
The Trials Accelerator Impact Report is an annual summary of the progress made by the Trials Accelerator in the development of new cystic fibrosis (CF) therapies, and in raising awareness and engagement of clinical trials within the CF community.
The report is designed to be accessible to everyone — most importantly for people with CF, family member, carers and healthcare professionals.
The report summarises a range of information including:
UK enrolment in CF clinical trials, and the range of therapies in development
Sponsor/pharmaceutical company engagement
Summary of the CF community's involvement in designing and shaping trials, including results from the annual trials survey
Future plans for the Trials Accelerator in supporting the delivery of clinical trials to the UK CF community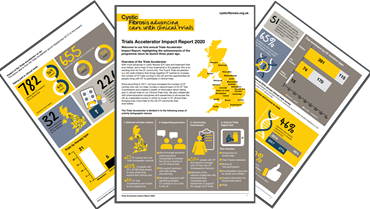 Read the 2020 Trials Accelerator Impact Report
The 2020 Trials Accelerator Impact Report (1.74MB) is now available to download.
As this is our first annual Impact Report, this report highlights the achievements of the programme since its launch in 2017.
Clinical Trials Hub
Find a wealth of information on CF clinical trials for sponsors or the community, or search for trials you might like to take part in through the Trials Tracker.
Get involved
Find out how you can get involved in a clinical trial, whether it's reading our clinical trials booklet, checking out our Trials Tracker or looking at other ways to take part.
Contact us
Have a question about the Impact Report or the Trials Accelerator Platform, or want to speak to someone about clinical trials? Get in contact with a member of our team!