Clinical Trials Accelerator Platform
CTAP is a UK-wide initiative bringing together NHS cystic fibrosis (CF) centres to support people with CF to access and participate in CF clinical trials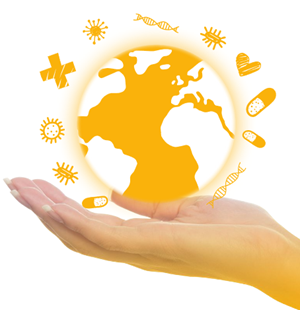 The programme engages with pharmaceutical companies and researchers to showcase the UK as a desirable country to invest CF clinical trials. This has increased the number of clinical trial opportunities and improved access to the newest therapies for people living with CF.
Since the programme launch in 2017, we have brought together 27 CF centres across the UK, funded a national team of 25 Trial Coordinators, supported with the set up of 6 early phase research centres and developed resources and information on taking part in clinical trials for the CF community.
Bringing more trials to the UK CF community than ever before.
Take a look at our annual Trials Accelerator Impact Report, highlighting the achievements of the programme since its launch three years ago (last updated November 2020).
Why is the Trials Accelerator needed?
Clinical trials are the crucial and significant step in between new medicines being developed in the lab and becoming available for prescription by a doctor. They are the only way to evaluate whether a new treatment is both safe and effective for use in people - without clinical trials, none of the medications available today, including those for CF, would be available.
Prior to the Trials Accelerator, the UK lacked dedicated infrastructure and resources to support a large number and variety of CF clinical trials. Delivery of trials was mostly dependent on a few CF centres with a finite amount of resources, limiting the number of trials that could run in the UK. This also meant a lot of people with CF were missing out on opportunities to take part trials.
Since the Trials Accelerator launched, it has enabled more CF centres to run a wider breadth of clinical trials, offering more people with CF the opportunity to take part. So far, the initiative has supported over 600 people with CF (children and adults) to take part in a clinical trial.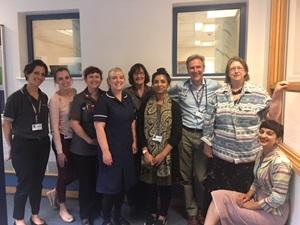 "Funding a clinical trials coordinator as part of the Trials Accelerator to inform and streamline patients' access to new CF therapies has been one of the most innovative and practical initiatives I have been involved with. The research process for adult and paediatric CF studies at Southampton General has greatly improved. We are enormously grateful to the Trust for evolving this creative concept which patients need at this exciting time of new drugs and therapies." Dr Mary Carroll, pictured with Dr Gary Connett and their Trial Coordinator, Shobonna Akter and other members of the Southampton Clinical Research Facility, Biomedical Research team and R&D.
---
Over to you...
The continued success of the Trials Accelerator will only be possible with your support. By getting involved in all aspects of clinical trials, you can help ensure everyone with CF can gain faster access to better treatments.
Visit our Clinical Trials Hub to find out more about clinical trials and how you can get involved. You can also take a look at our very own Trials Tracker: a CF clinical trials database to help you find suitable clinical trial opportunities.
Involvement
You don't have to take part in a clinical trial to influence trial development and contribute towards groundbreaking research. Find out more about how you can get involved.
Clinical Trials Digital Hub
We've got everything you might want to know about clinical trials on our Clinical Trials Digital Hub, including resources, information about taking part and more!
Taking part
Find out more about taking part in a clinical trial. We've got information on everything from trial types to eligibility and consent as well as links to loads of useful resources.