UKCFC 2016: day one, Wednesday 7 September
In this conference we are exploring the latest pipeline of research and innovation into cystic fibrosis (CF), with a special focus on personalised medicine. Day one is designed for a multidisciplinary clinical, research and academic audience.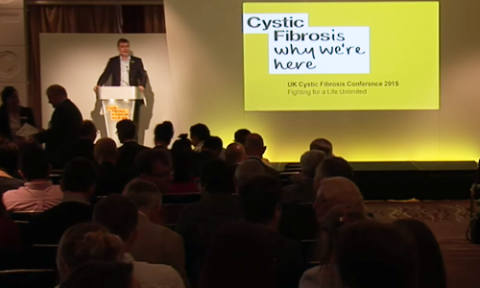 The morning gave an insight into precision and personalised medicine and recent advances in specific treatments. The afternoon focussed on the latest in research news, innovative medicines, and the impact of precision medicines on practice.
Take a look at the agenda below, and register for a conference ticket. Sign up for the conference dinner, which is being held on the evening of day one (two separate event registrations are required).
Read about our speakers for day one.
UKCFC Agenda - day one
09:00 Registration, refreshments and networking
10:00 Welcome and conference introduction with George Jenkins OBE, Chairman, Cystic Fibrosis Trust
---
10:10 Precision/personalised medicine: a paradigm shift for individuals with cystic fibrosis (session one)
Introduced and chaired by Dr Tim Lee, Honorary Clinical Associate Professor, Leeds University
Keynote
Introduced by Ed Owen, Chief Executive, Cystic Fibrosis Trust
Personalisation of precision medicines: beyond CFTR project update – Professor Garry Cutting; Professor of Paediatrics and Medicine, John Hopkins University, USA
---
10:55 Coffee and networking
---
11:10 Precision medicines: potentiators, correctors, triples and amplifiers (session two)
11:15 Precision medicines: smart, innovative drug discovery – Frederick Van Goor; Principal Research Fellow, and Head of CF Research Program, Vertex
11.45 Precision medicines: triple combination therapy – Katja Conrath, Therapeutic Area Head Galapagos
12:15 Structure of CFTR and the binding of lumacaftor – Professor Robert Ford, Chair in Structural Biology, University of Manchester
---
12:55 Lunch and networking - 'Meet the sponsors'
---
14:00 Hot off the press - the latest research news (session three)
Introduced by Janet Allen; Director of Strategic Innovation, Cystic Fibrosis Trust
14:05 CFTR protein amplifier: a novel approach to boost CFTR production – Dr Majd Mouded; Medical Director, Clinical Development, Proteostasis Therepeutics
Q&A with audience and online
---
 14:15 The personalisation of precision medicines - beyond CFTR (session four)
A series of talks on innovative medicines that treat the person, not just the genotype; introduced by TBC
14:20 SmartCareCF: Adult Remote Monitoring Study – machine learning techniques. Can data be effectively harnessed to benefit people with cystic fibrosis? – Professor Andres Floto; University of Cambridge and John Winn; Microsoft Research, Cambridge
14:50 Personalised medicines: external and environmental factors. Understanding the data and its use – Dr Frederic Piel; Lecturer in Epidemiology, Imperial College and Small Areas Health Statistics Unit (SAHSU) 
---
15:20 Coffee and networking
---
 15:40 Precision medicine: impact on practice (session five)
 Introduced and chaired by Professor Jane Davies, Professor of Paediatric Respirology & Experimental Medicine, Imperial College
15:45 Precision medicines: the challenge for clinical trials and drug approvals – are double-blind trials obsolete? Dr Virginia Acha; Executive Director – Research, Medical and Innovation, and Association of the British Pharmaceutical Industry
16:15 Precision medicines: predicting individual response to new tailored therapies – finding the right person for the right drug – Dr Jeffrey Beekman; Department of Paediatric Pulmonology, University of Utrecht.
---
16:45 Closing comments from Ed Owen; Chief Executive, Cystic Fibrosis Trust
16:50 Conference closes for Day One
---
17:00 Summer Students Poster Session - Judging panel
---
18:00 Drinks reception and networking opportunity
Poster prizes awarded to the Summer Students
19:00 Conference dinner- sponsored by Vertex
Guest speaker: Nick Talbot, the first person with CF to climb Everest
Take a look at our sponsored events…
08:30 Breakfast Symposium: sponsored by PARI – 'Using technology to support self-management in adults with CF' (1 hour)
17:00 Evening Symposium: sponsored by Vertex – 'Orkambi update' (1 hour)