Novel therapies for Mycobacterium abscessus
Find out how Professor Floto and a team of researchers from the University of Cambridge and Colorado State University are working together to find new treatments for people with cystic fibrosis (CF) who are infected with M. abscessus.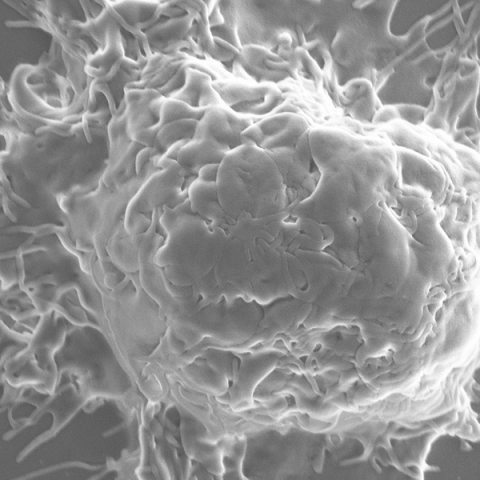 Here's a simple summary of the work – read on for more detail.
Mycobacterium abscessus is a type of bacteria that can cause devastating lung infections in people with cystic fibrosis. It is very difficult to treat and is growing in frequency around the world. This SRC aims to use a mixture of existing expertise and cutting-edge technologies that have been developed for other purposes to develop new antibiotics and other ways of preventing and fighting this infection, and to strengthen existing treatments.
Hold on to your hats, we're about to get technical…!
Scientific background
Mycobacterium abscessus is a type of bacteria distantly related to tuberculosis that can cause a devastating lung infection in people with cystic fibrosis (CF), which can be impossible to treat, excludes people from being eligible for a transplant, and leads to accelerated lung damage. Between 5 and 20% of individuals with CF are infected with M. abscessus globally, and rates of infection are increasing each year.
M. abscessus infection has become one of the greatest emerging global threats to individuals with CF, for which there is an urgent and unmet need to find effective treatments.
How the SRC will work
This Strategic Research Centre (SRC), led by Professor Andres Floto at the University of Cambridge, brings together a unique group of world-class scientists to deliver a research programme focussed on finding new therapies for M. abscessus. As such, the benefits of this research will be felt by the global CF community. The team will build on their existing work on understanding the pathophysiology of M. abscessus so that they can apply cutting-edge structure-guided drug design, novel applications of fragment-based screening, forward and reverse genetic screening, advanced methods of molecular microbiology, and state-of-the-art animal modelling to develop novel therapeutic strategies for the treatment of M. abscessus infection in individuals with cystic fibrosis.
What are the aims?
During the course of this project, the group aims to:
Develop new antibiotics using a state of the art methodology called 'structure-guided fragment-based drug discovery' (FBDD), where small 'fragments' of drug-like molecules are screened to see if they bind to a defined bacterial target,  sticks to a defined bacterial target, in this case on M. abscessus . The structure of the fragment-bound target is then determined, and the fragments are chemically 'grown' or 'linked' to form a drug that binds perfectly to the target;
Screen drug fragments against the live bacteria to see which ones can kill it, then DNA sequencing resistant bacteria to identify the target in a completely unbiased way, and subsequently 'growing' the fragments as described above;
Use (1) a sequenced global collection of over 1,500 clinical isolates of M. abscessus, (2) a mutant library of M. abscessus generated by a novel gene silencing strategy, and (3) a computational protein-structure analysis of M. abscessus proteome to identify the critical genes responsible for the survival of the bacteria and its ability to cause harmful infection - these genes will then become targets for the FBDD campaign;
Develop initial work on finding drugs that block M. abscessus forming gel layers (called 'biofilms') in the airways of CF individuals, as it is believed that these biofilms are largely responsible for the chronic survival and antibiotic resistance of M. abscessus in the CF lung;
Explore whether vaccination against M. abscessus might protect against infection, or might enhance antibiotic treatment when given together during an existing infection.
Lead Principal Investigator (PI): Professor Andres Floto (University of Cambridge)
Co-PIs:
Professor Sir Tom Blundell (University of Cambridge)
Professor Chris Abell (University of Cambridge)
Professor Julian Parkhill (University of Cambridge)
Dr Mary Jackson (Colorado State University)
Dr Diane Ordway (Colorado State University)
Regular gifts help us to fund ground-breaking research for long into the future - please consider donating today.
Research we fund
We fund research to tackle some of the most pressing issues in CF today. Find out how your donations are making a difference.
UK CF Registry
Our UK CF Registry is one of the world's leading databases of patient information that holds the data of over 99% of people with CF in the UK. Read our registry reports or apply for data.
Fund our research
We invest more money into CF research than any other charity in the UK, and it's all because of you! Let's keep it coming and ensure a life unlimited for everyone affected by cystic fibrosis.