Getting to know... Liam
Liam is a fundraising extroadinaire, proud father to Rachel - who has cystic fibrosis - and a brilliant advocate for the Trust's work.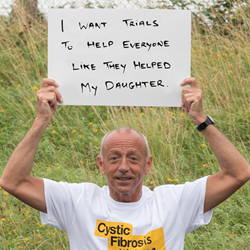 Liam's daughter Rachel, aged 24, was diagnosed with cystic fibrosis when she was just six weeks old. Today, she has a Masters in psychology and is studying for her PHD. Liam spoke with the Trust about the journey that got her there and the miracle of medical trials.
How did you feel when Rachel was diagnosed?
"When Rachel was born, a young man who lived a few miles away had just died of cystic fibrosis. He was only 16 years old. That was our introduction to the condition. It took a while for the diagnosis to sink in, but 24 years later things are getting better, not worse. Rachel is getting healthier instead of sicker. It's all down to Orkambi – it's changed her life."
How did Rachel get involved in the Orkambi trial?
"Three years ago, Rachel's consultant contacted her himself and told her he thought she would be ideal for the trial, and she said yes. The trial ended about three months ago, and on Orkambi her lung function has risen by 19% and she has gained a stone in weight. Since she's been on the trial my wife and I have had about 15 colds or coughs; Rachel has only had one or two! For her, Orkambi has been a wonder drug, and it's all down to her taking part in a trial."
What have been the hardest moments for you as a parent caring for Rachel?
"It was tougher in the earlier days. We were a two-hour drive from Belfast where her treatment centre was, and when she was on IV drips we would drive two hours to get to the centre in the morning and two hours to get back at night, every day for two weeks. It became a way of life."
What are your hopes for the future of CF?
"We were contacted recently by a young woman who had just had a baby with cystic fibrosis. She said her daughter had been in hospital, and that she had seen all the work we had done for CF and asked for some advice. I told her, there's no good time to be born with CF, but now is the best time to be born with the condition because of all the incredible advances in research. Your child will have a much easier time growing up than Rachel did. She was really happy to hear that."
The Trust's dedication to clinical trials for cystic fibrosis
We've just announced a fantastic new Clinical Trials Accelerator Platform - sounds grand, doesn't it? The accelerator aims to help more people with CF take part in clinical trials by supporting clinicians in CF centres to manage the very labour-intensive process of administering trials and staying up-to-date on what's available. This means they'll be better able to help people with cystic fibrosis find a trial they are eligible for. Crucially, no new medicines will find their way onto your prescription without going through clinical trials, and if we want them we have to support this process. We're investing time, money and expertise - so stay informed and look out for your next opportunity to do something amazing. You could be part of the next breakthrough!
Liam received the British Empire Medal in recognition of his fundraising. Feeling inspired? You can support our work by making a donation or fundraising for the Trust. Together, we'll create a brighter future for everyone with cystic fibrosis.
Clinical Trials Accelerator Platform
Find out how we're driving progress and helping to make clinical trials more efficient, bringing new treatments closer than ever.
It's all about you
Find out more about the journey towards personalised healthcare for everyone with cystic fibrosis.
Let's get personal
Take a look at our focus on personalisation, showcasing members of the CF community.