Getting to know... Sammie
Meet 36-year-old Sammie, who lives with her husband, son and dog.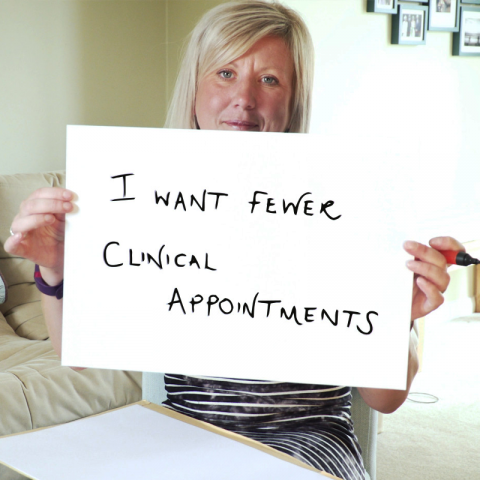 Sammie loves being creative and going to gym classes, and has had a varied range of careers, but currently feels unable to work owing to her fluctuating health - she has cystic fibrosis (CF) and CF-related diabetes. 
"I find with CF I need to exercise a lot. If I eat properly, I exercise and I sleep a lot then I'm half way there. Daily I spend about an hour on treatments, depending on if I have an infection and how much time I need to spend on physio - every day is different."
With the extra time spent on treatments and regular hospital appointments, it can be challenging to fit in everything you want to achieve. The Trust is tackling this head on with a new project...
We're exploring exploring innovative ways of using technology to help beat cystic fibrosis
We're working with people with CF and clinicians teams to explore the huge potential that health tech could have for giving individuals control over their wellbeing. In the video below, Sammie talks about trying out some innovative ways of putting these new technologies to work.
"I've been using various bits of health tech to measure myself daily. I measure my weight, oxygen saturation, lung capacity and how many steps I've done in 24 hours, as well as a section on general health, including quality of life and sleep pattern.
"You're in control and can see if you need to eat more, you need to sleep more. I gym a lot - there's times that you think things aren't quite right, maybe I need to rest a bit more - maybe I don't need to do as many classes this week.
"It did benefit me - I needed to go into hospital but didn't realise I was unwell at the time. The technology could improve care in general by reducing the number of appointments. They can monitor from their end and I'll monitor from my end, so barring the fact that I need my port flushed, which I can do locally, I wouldn't need to drive an hour to clinic every six weeks.
"I'm hoping that, if my health continues to improve, I'd love to get back to work, But you know, you've got to find the right thing - it's got to fit in with my treatments and my life. If it's meant to be, it'll happen, won't it?!"
We're striving to reach the day when you can keep an eye on your lung function, weight and other vital statistics at home, so that you only go for your check-up when you've noticed a decline in health. You could spot something - a slight change in one of your measures - and respond to it instantly by doing a bit more exercise, eating a little more or getting more rest. We're still testing to make sure it's safe and effective, but it's a huge step forward in our journey towards personalising your daily routine to suit your needs.
It's all about you
Find out more about the journey towards personalised healthcare for everyone with cystic fibrosis.
Remote monitoring
Find out more about the Trust's pioneering work in the field of health tech and remote monitoring.
Let's get personal
Take a look at our focus on personalisation, showcasing members of the CF community.