Local branches
Butterfly Ball Branch 
Contact: Nicola Broderick
Email: DNTW@Live.co.uk 
If you live in the Merseyside area and would like to get involved in fundraising with the Branch, please do not hesitate to contact Nicola.
Cardiff & Vale Branch
Contact: Hazel Morgan
Phone: 07902 228865
Email: Cftrustcardiffandvale@gmail.com
Dorset Branch
Contact: Ivan & Sally Palmer 
Phone: 01202 772 229
Email: ipalmer91@sky.com
We hold an annual meeting, usually in Bournemouth, with a key speaker to update us on progress. We hold several events over the year and are always keen to hear from anyone who would like to become involved.
Friends of Hannah
Contact: Amanda Gorbey
Email: a.gorbey@yahoo.co.uk
Phone: 07825 083045
The Friends of Hannah group covers the Gower Peninsula, and our main event is our annual golf day in July.
65 Roses Flintshire Branch
Contact: Elena Plunkett
Email: elenaplunkett79@gmail.com
If you live in the Flintshire area and would like to get involved in fundraising with the Branch, please do not hesitate to contact Elena.
Gwent Branch
Contact: Robert and Elizabeth Williams
Email: gbcftrust@gmail.com or rm.williams@ntlworld.com
Anyone in or around the Gwent area who would like to get involved in fundraising, do not hesitate to contact the Gwent Branch!
Hereford Branch
Contact: Chris Denning (Branch Secretary)
Email: chris.denning@uk.rsagroup.com
Phone: 01432 851 504
Mobile: 07836 387 242
Regular activities in Hereford include charity bike rides, runs, comedy nights, cake sales, store collections and collection and sale of 2nd hand goods. Always seeking volunteers to help collect at store collections.
Honiton Branch
Contact: Liz Brown
Phone: 01404 44043
Email: elisabeth_brown@btinternet.com
We are always on the lookout for new members and would very much like to hear from you. If you are interested in helping us organise our events such as the stall we regularly have in Lace Walk, Honiton please let us know.
North Staffs Branch
Contact: Fran Foster
Email: francina2002@hotmail.com
Phone: 01270 842 984
Have a fundraising presence at all the major local carnival and fairs. They also organize bag packs, store collections and give talks and information evenings. Volunteers are always needed to help raise the funds we so vitally need.
Pembrokeshire Branch
President  : Mrs Penny Drew MBE;DL.
Chair :  Sybil Edwards. Tel: 01348 837147   Email: sybil@edwmcb8.fsnet.co.uk
Secretary : Caroline Willis  Tel : 01437 720619  Email : caroline@carda.co.uk
Treasurer : Brian Griffiths
The branch is currently entering its 37th  year, and in the last financial year raised over £11,000.
Already this financial year it has brought in  £2,500   which includes £1,000  sponsorship raised by CF mum Merrilee who has run  in a number of events and is still running !   
The branch benefits from  the enthusiasm of its youngest committee member Sophie Pierce, a 22 year old CF patient    who, two years ago,  raised £2,000 with a sponsored climb of Kilimanjaro  and who organised the  recent Snowdon climb. 
She is now thinking up  another enterprise  to keep us on our toes. 
Somerset Branch
Contact: Pauline Warren 
Phone: 01460 240 092
Email: paulinewarren3@hotmail.com
Ormskirk & District
Contact: Margaret Ellams
Email: mfellams@hotmail.com
Phone: 07753801345
Wirral Group
Contact: Debby Townsend
Email: debbytownsend@hotmail.co.uk
Phone: 07803 248 685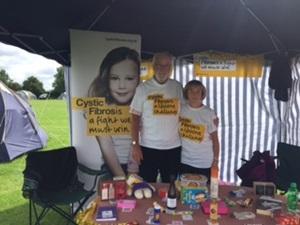 Research we fund
We fund research to tackle some of the most pressing issues in CF today. Find out how your donations are making a difference.
What is CF?
Cystic fibrosis, or CF, affects the lungs, digestive system and other organs, and there are over 10,600 people living with it in the UK.
Contact us
Get in touch with us to speak to someone on our Helpline, find out about an event or speak to our Press Team.