Clinical Trials Hub

If you have any questions about taking part in clinical trials, please contact your local CF trial coordinator or the CF trust clinical trials team. 
The Clinical Trials Accelerator Platform (CTAP) was set-up in 2017 with the primary intention of improving access to clinical trials for the UK CF community, whilst supporting sponsors with delivery of high priority CF clinical trials.
Through our network of participating CF centres, national team of CF trial coordinators and online information, we provide a platform to help children and adults with CF take part in trials across the UK.
Find out how you can get involved in clinical trials. This might mean exploring our CF Trials Tracker to find a trial to take part in, or reading our useful clinical trials booklet to get answers to some of the questions you have. Or you might choose to lend your time in another way, by taking part in community involvement and becoming a CF trial ambassador, ensuring the experiences of people with CF and their families play a part in every trial. 
Our Trials Tracker is regularly updated to show CF clinical trials happening across the UK. If you are unable to find studies running at your local centre try broadening your search to see if you can participate in research at other locations.
As a nation-wide CF clinical trials network , we collaborate with sponsors to support them with the design, planning, and delivery of CF research. This could be through our national network of centres who have the capability and capacity to support early to late phase trials; our team of highly skilled CF trial coordinators; or our network of CF patient representatives who collaborate with sponsors to support the design of patient centred trials.
Find out more on our page for sponsors.
Impact of the Trials Accelerator
Since the launch of the Trials Accelerator in 2017, the impact can clearly be seen by looking at how many people have taken part in one of the CF trials running at Trials Accelerator centres.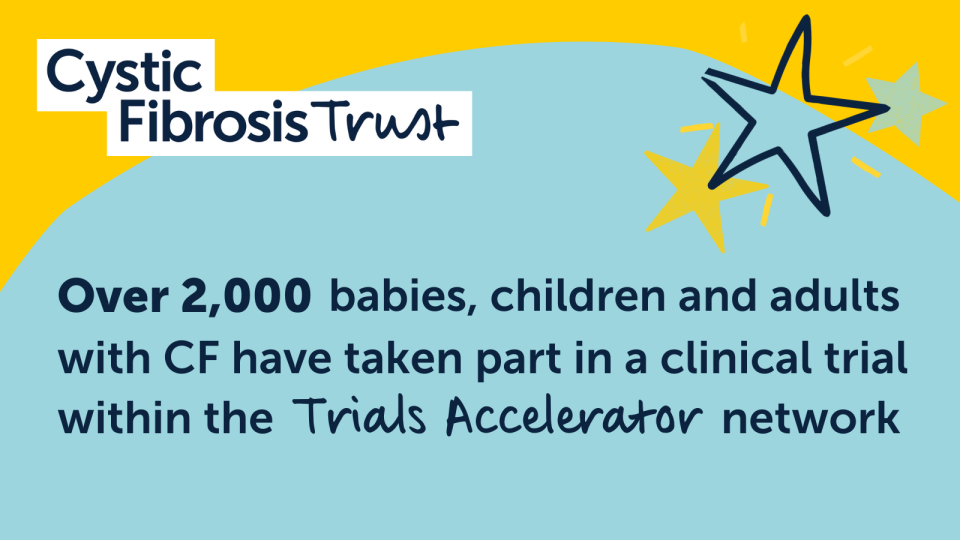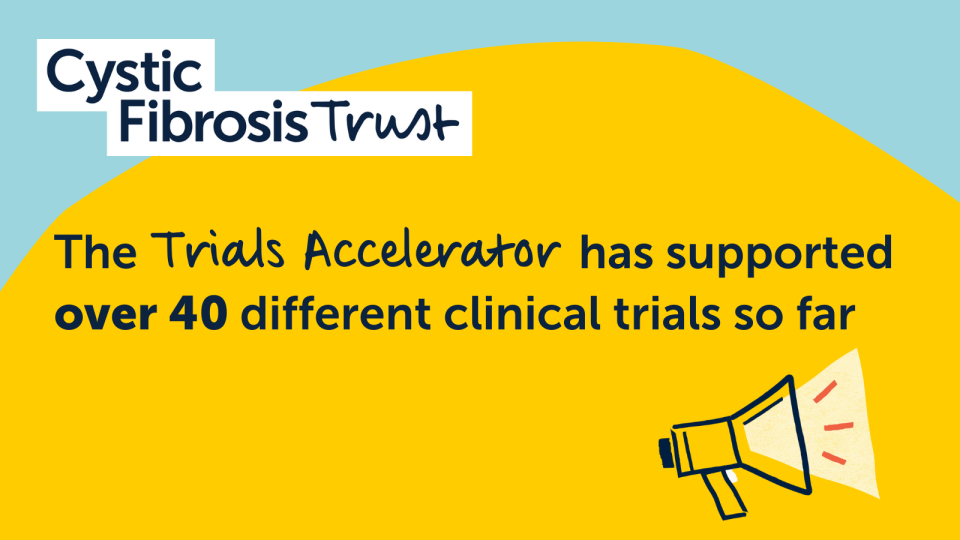 Take a look at our annual Trials Accelerator Impact Report, highlighting the achievements of the programme since its launch.
(last updated November 2020).
Interested in trials?
Do you have any questions about clinical trials or the Trials Accelerator? Contact a member of our Trials Accelerator Team!
Trials Tracker
We have created a CF Trials Tracker so that you can easily access the trials that relate to you.
Get involved
Find out how you can get involved in a clinical trial, whether it's reading our clinical trials booklet, checking out our Trials Tracker or looking at other ways to take part.