Information for Sponsors
The Trials Accelerator provides the infrastructure to support Sponsors with delivery of commercial and academic CF clinical trials in the UK, along with the platform to enable the CF community to gain access to these trials. Our national team of Trial Coordinators based at our participating centres act as a single point of contact to support Sponsors with feasibility, set-up and delivery of high-priority CF clinical trials.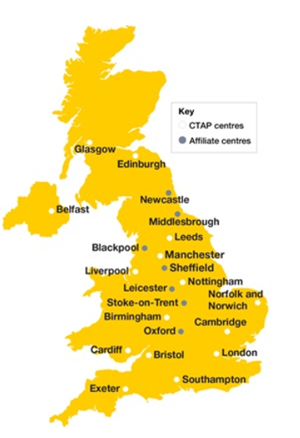 Commercial 'Involvement'
'Patient & Public Involvement' (PPI) is regarded as a highly important component of the UK regulatory process, with the UK Health Research Authority (HRA) strongly encouraging all Sponsors to engage with PPI during trial design. It is now widely acknowledged that the inclusion of PPI at all stages of the trials process leads to better recruitment and retention rates.
PPI should be an active and collaborative opportunity for Sponsors and the CF community that allows the community to act as advisers and partners. The Trials Accelerator has an established group of CF representatives (people with CF, and parents of children with CF) ready to share their lived experience to support Sponsors with trial design and delivery.
This PPI group can benefit Sponsors by offering:
Access to an engaged and diverse representation of the CF community
Focus group discussions via remote technology
One-to-one interviews to access a specific knowledge base
Protocol reviews by trained CF representatives
Review of design and content of Patient Information Sheets and Consent Forms
Lay trial summaries and lay result summaries
Maximum benefit can be achieved by initiating PPI at the earliest possible stage, but it does not exclude involving CF representatives in the latter stages of trials even when there has been no PPI previously.
Our Commercial Involvement (Public & Patient Involvement) leaflet outlines how Commercial Involvement can benefit Sponsors and detail on how to involve the community.
Download the PPI leaflet (594KB)
Please review the Trials Accelerator Sponsors Brochure or contact the Trials Accelerator Involvement Manager (involvement@cysticfibrosis.org.uk) to find out how we can help or discuss your PPI requirements.
Trials Tracker
We have created a CF Trials Tracker so that you can easily access the trials that relate to you. Search by genotype or trial type, and save your favourites!
Interested in trials?
Do you have any questions about clinical trials or the Trials Accelerator? Contact a member of our Trials Accelerator Team!
Get involved
Find out how you can get involved in a clinical trial, whether it's reading our clinical trials booklet, checking out our Trials Tracker or looking at other ways to take part.