Quality Improvement
Find out how the Cystic Fibrosis Trust's Quality Improvement Team is working to improve quality of care in CF centres across the UK.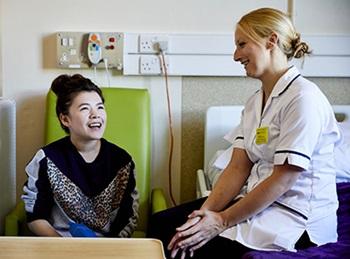 What is Quality Improvement (QI)?
Quality improvement is about trying to make the health care you receive more:
Safe – trying to ensure the care you receive makes you better, not worse
Timely – do you receive the care and information you need, when you need it?
Effective – are the treatments and advice you're receiving evidence-based? Do they work?
Efficient – helping your centre understand and use their resources to ensure optimal care
People-centred – ensuring your opinions on your care are listened to and acted upon
Equitable – reducing unnecessary differences in how care is provided across the UK
What does the Trust's Quality Improvement Team do?
The QI team was established in 2018 to provide resources that help to support CF centres across the UK to improve the quality of the care they provide.
Current projects
Patient Reported Experience Measures (PREMs) Survey
Our UK-wide patient experience survey gives participating CF centres insights into what people with CF and their families think about the health care they receive. Results of the survey will be compared to the UK average for each question, to help centres benchmark their performance. This will help CF teams identify areas of best practice and opportunities for improvement. Successive PREMs surveys will track how people with CF feel about their care change over time, and help CF teams measure the impact of their Quality Improvement projects.
2019 paediatric survey
Twenty-five centres participated in the survey between 1 September – 31 March 2020. UK and centre reports will be available in early 2021.
2020 adult survey
Twenty-six centres participated in the survey between 1 September – 31 March 2021. All centre reports have been created and sent to the participating centres along with all their families and patients that asked for the centre report. UK report to follow shortly.
Staffing tool
This online tool, completed by the centres, aims to give a yearly snapshot of staffing resources in participating UK CF centres. Centres receive a report showing how their staffing and vacancy levels compare to UK averages.
2019 UK staffing report 
Download the Staffing Report (383KB)
2020 UK staffing report
Our 2nd annual capture of CF staffing levels has just closed, with input from 44 centres across the UK. A huge thank you to all the centre staff who provided information. The reports will be released in 2021 and will give CF teams the evidence they need to ensure that staffing levels across all areas of the multidisciplinary team are optimized for providing CF care and track changes in their staffing levels over time, in the context of any UK trends.
Quality Improvement Working Group
Our new Quality Improvement working group, made up of people with CF, their families, CF professionals and members of the Trust, held their first meeting on Wednesday 23 September 2020. The group is co-producing the Trust's QI strategy and will develop key projects to improve CF care and services. Our three year Aims and Values can be viewed here.
Take a look at the latest meeting overview:
UK CF Registry
The Registry is an anonymised database of people with CF in the UK - a powerful tool for monitoring and auditing the care that people receive.
Resources for professionals
Explore the resources, programmes and awards that we offer to CF professionals to help them provide the best support they possible can to people with cystic fibrosis.
Helpline
Contact our wonderful helpline team by telephone or email, Monday to Friday, for answers to your questions.