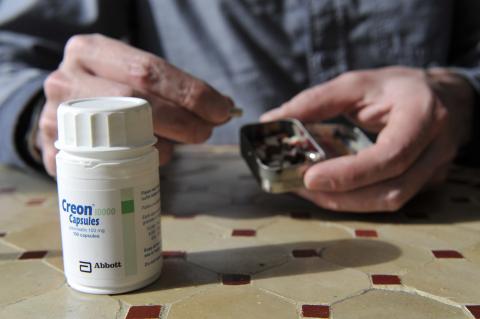 Mylan, manufacturer of the digestive enzyme supplement Creon, has confirmed it is working to source raw materials to enable it to reintroduce Creon 40,000 tablets at a date to be announced in the future, and has apologised for the issues affecting Creon 25,000 over the busy Easter period.
The Trust investigated concerns about supplies of Creon 40,000 following a flurry of complaints on social media from the cystic fibrosis community. Mylan responded to the Trust and is doing everything possible to re-establish the supply of Creon 40,000.
Creon 25,000 has also been in short supply over the last few weeks owing to issues with the supply chain, but normal supplies have now resumed.
Creon often makes up a high proportion of the numerous tablets that people with cystic fibrosis take each day. The availability of different strengths often allows people to take a higher strength rather than increasing the burden of treatment with additional tablets at each mealtime to assist with digesting food.
Mylan also requested a full investigation into a complaint about capsules containing no medication finding their way to a patient, and has issued a response to the Trust.
Lynne O Grady, Head of Clinical Programmes said: "Through social media we were able to represent the voice of the CF community to Mylan, which supplies Creon. We are pleased that they are happy to work with us to investigate all concerns.
"It is hoped that Creon 40,000 will be re-released in the near future. In the meantime we would urge anyone affected by any Creon issues to contact Mylan directly."
If you have any further problems or feedback please let us know via the Trust' helpline or on social media.