Clinical trials - Caitlin's story
Caitlin, 17, has been on a clinical trial for a modulator therapy for the past three years at Leeds Hospital. Here, she tells us about her experiences in taking part in a clinical trial and what her hopes are for cystic fibrosis being represented in the media.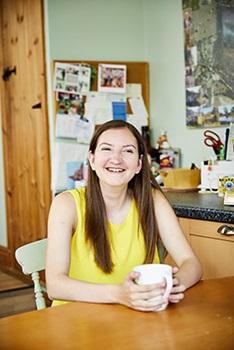 "When I first mention having cystic fibrosis to people, they don't often know what it is or understand it until I explain it. I would just explain it to them as being a genetic disease that affects my lungs, digestive system and other organs. I say that my lungs get clogged up with thick, sticky mucus that hangs onto bacteria and infections which over time causes damage.
"I hope that the storyline in Casualty will raise awareness"
"I am very positive though and I always emphasise that I don't let CF control my life and that I have a good chance of living a long life; especially with new medications coming out. I do hope that the storyline in Casualty will raise awareness and understanding of CF, as I personally feel CF is still not really that well known, even though there is more awareness about it than there ever used to be, especially after the Five Feet Apart film came out. But even then there are things about that film that aren't completely accurate.
"Most people with CF take about 40 tablets a day ... so the medication I was trialling was just another tablet to add"
"I was put on the trial through my CF centre at Leeds Hospital, and I was the only person on it from my hospital which shows you how difficult it can be to get on one. My doctor suggested that it might be beneficial for me to get involved and that it might improve my lung function. I had to sign forms, and it was really clear that you could opt out.
"When I came in for my tests I had the basics like lung function tests, weight, height, cough swabs to see if any new infections have grown, urine samples, blood pressure… most people with CF take about 40 tablets a day, at least, so the medication I was trialling was pretty much just another tablet to add to the rest of them.
"I came in for tests regularly at the beginning of the trial and it was done over 32 weeks (when I did not know if I was on the placebo or actual drug). I was seen at regular intervals and monitored closely, those visits mostly took up to eight hours. As the first year continued I carried on with the trial and came for another nine visits over eight months. Eventually I was transferred to the active medicine and after being initially monitored every few weeks the visits spread out and became less intensive. The trial still continues and I am monitored regularly.
"When I have had an infection the new medication has helped me to stay stable"
"I think the biggest difference the new medication has have made to my health is that they have kept me stable for longer. When I have had an infection they have helped me to stay stable. I think a big difference is that I am able to keep up with my peers more in general, I can do things like climb a hill or get up stairs easier. When the triple combination therapies come out I hope to be able to try one of them.
"It would honestly mean the world to me, my family and my loved ones if the clinical research helped to bring out more effective treatments for cystic fibrosis. A few years ago I was expecting to die young, most likely in my 20s or 30s, but being on a trial has given me so much hope for the future. I know I have a good shot at living as long a life as anyone else and that makes me so happy, I feel so lucky and I'm sure there are many other people with CF that feel that way too.
"I'd say to anyone thinking about going on a trial to ask your doctor and then ask family what their thoughts are. It's definitely worth it and you can always opt out if you change your mind."
Find out more about clinical trials or donate today to support our work and help people like Caitlin to live a life unlimited by their condition.
Research we fund
We fund research to tackle some of the most pressing issues in CF today. Find out how your donations are making a difference.
What is CF?
Cystic fibrosis, or CF, affects the lungs, digestive system and other organs, and there are over 10,600 people living with it in the UK.
Contact us
Get in touch with us to speak to someone on our Helpline, find out about an event or speak to our Press Team.