ExACT-CF: A trial investigating whether exercise can replace chest physiotherapy for airway clearance in people with CF
Details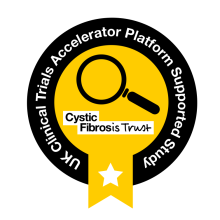 Therapeutic approach

Other

Trials Tracker ID

TT008121

Last updated

30/01/2023
---
Full title
ExACT-CF: Exercise as an Airway Clearance Technique in people with Cystic Fibrosis – A randomised pilot trial
Study details
This study is looking to explore if exercise is an effective and safe method of airway clearance for people with CF. It is a feasibility trial and will help gain the insights required in order to plan a large full-scale trial.
Researchers at Edinburgh and Portsmouth Universities have worked with the CF community to investigate which exercise (type, duration and intensity) should be performed for airway clearance, and are now hoping to recruit people with CF and their families to a study asking them to stop chest physiotherapy and replace with exercise for airway clearance instead. In addition, the researchers wish for people with CF and their families to share their experiences of the study processes.
The results from this study will help plan a larger trial to further investigate whether exercise can be used as a safe and effective replacement for chest physiotherapy.
The feasibility study involves people being allocated (known as being randomised) to one of two groups for 28 days:
- Group 1 will be asked to complete chest physiotherapy at least once a day in line with usual care
- Group 2 will be asked to stop their chest physiotherapy and replace it with exercise for airway clearance (ExACT) at least once a day
The study involves 2 visits to the participating hospital site in Edinburgh or Southampton where lung function and a measurement called lung clearance index (to measure breathing when sitting quietly) will be taken. You will also be asked to complete a range of questionnaires on your experience and quality of life at these visits.
In addition, physical activity will be measured throughout the study using a wearable Garmin device that synchronises with a smartphone, and there will be 3 short video calls made to participants during the study, to perform home spirometry and answer brief questionnaires. Study participation will last for around 1 month (28 days).
Some of those taking part will be asked to complete in-depth interviews with a researcher at the end of the study to try to understand how they felt about the study, the tests that they were asked to perform and the airway clearance intervention.
This study is co-led by Dr Don Urquhart (University of Edinburgh) and Dr Zoe Saynor (University of Portsmouth).
---
Phase

Not applicable

Length of participation

28 days

Recruitment target

50

CF sponsor

University Hospital Southampton NHS Foundation Trust

CF sponsor type

Academic
Who can take part?
Age range

Aged 10 years and older

Including people

Age > 10 years
Stable on elexacaftor/tezacaftor/ivacaftor (ETI), also known as Kaftrio®
FEV1 > 40% predicted

Get in touch