Carols by Candlelight
Our first ever virtual Carols by Candlelight premiered online on Thursday 17 December 2020.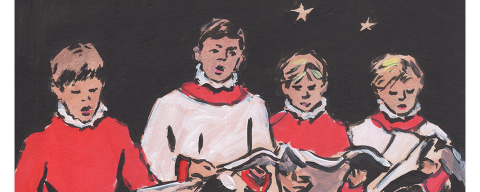 On behalf of the Alice Martineau Appeal Committee, our special celebrity guests, and everyone at the Cystic Fibrosis Trust, thank you to everyone who joined us for the premiere of our first ever online Carols by Candlelight on Thursday 17 December. 
We were joined by Dame Judi Dench, David Haig, Jenny Agutter, Jane Asher and Damian Lewis. The Winchester College Chapel Choir recorded their carols at the legendary Abbey Road Studios!
Want to relive the magic?
If you missed the premiere, or want to share it with friends and family, you can watch the whole service again on our YouTube channel. Tickets are also still available to buy, which will give you an exclusive ticket holder's bonus film of behind-the-scenes footage, messages from our celebrities and more!
Our Christmas wish
2020 has brought an extraordinary set of circumstances. We were thrilled by the approval of Kaftrio, the first triple-combination therapy that treats the root cause of CF, which will undoubtedly change so many lives for the better. However, not everyone with CF will benefit from this new drug, and there is still more to do to ensure that no one is left behind.
If you can, please consider giving generously this Christmas by making a donation, at a time when the Cystic Fibrosis Trust needs your support more than ever. By supporting our vital work, you can help to make a better future for so many people with CF and their families.
Remember someone special
Our online book of remembrance is a place where the CF community can remember their loved ones who have died.
Our fundraising campaigns
At the Cystic Fibrosis Trust we've got a campaign for every season! Find out how you can get involved.
Where your money goes
Discover the important work you are supporting with each and every pound you raise.