Fighting for breath
Macauley, and others like him, lose around 2% of their lung function every year - if they're lucky. You can help everyone with cystic fibrosis live a life unlimited by the condition.
Cystic fibrosis is a life-limiting condition. It can limit your breathing, your digestion, your energy levels, your ability to do all of the things other people do - and your life expectancy. You can't catch it, but one in 25 of us carries the gene that causes it without even realising.
It's a serious condition, but we've seen huge progress in medicine and care, resulting in longer and happier lives. It's not over yet though - there's plenty more work to be done, and we won't stop until everyone with cystic fibrosis can live their life unlimited by the condition.
Text BREATHE to 70500 to give £5
Help us create a brighter future for everyone with cystic fibrosis.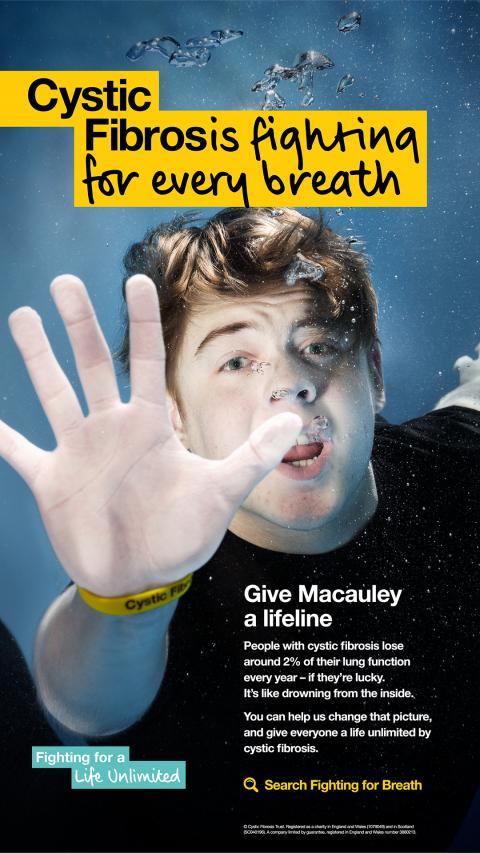 Macauley's story
Macauley is an energetic and cheeky 19-year-old from Northampton. He's chatty, funny and exudes energy. He's currently working full time and is part of the Royal Air Force Cadets. As if that's not enough to keep him busy, he also has a life-shortening genetic condition - cystic fibrosis - which requires punishing and relentless daily management, including 40 tablets as well as hours of physiotherapy just to stay well. The build-up of mucus in his lungs is like he's drowning from the inside.
Macauley's health fluctuates up and down quite unpredictably. "I currently have a superbug known as nontuberculous mycobacteria. Now, it's got to be so bad they had to call it 'super'! As soon as one bug leaves, I not-so-politely welcome the next. I'd love to say I'm healthy all the time, but I'm not. My health fluctuates so much it's like a medical mood-swing; inconsistency is an understatement."
"I've always managed to do anything and everything, treatment has never stood in the way. I'd never consider myself ill, as I'll always make sure I do my best to keep myself as fit as I possibly can."
Harsh realities
Despite his positivity, Macauley is aware of the risks. Currently, half of those who die because of cystic fibrosis are just 28 years old - or younger. Cystic fibrosis can mean spending a fortnight in hospital several times a year. The risk of catching bugs from each other means that people with cystic fibrosis can never meet each other in person, even during those long hospital stays. 
"I know some people might find these images hard to look at. However, I believe we need to show the harsh reality of this cruel condition. People with cystic fibrosis lose 2% of their lung function every year - if they're lucky - and it can feel like drowning from the inside. That's a scary prospect for me, but over time I believe we can change that. It's vital that we raise awareness and funds to stop so many people dying so young."
How you can be part of the story
Our story is Macauley's story, and the stories of the 10,000 others living in the UK with this terrible condition. It's a story of hope, but to keep giving people hope we need to keep funding cutting-edge research into new treatments and providing trusted information and support to the people that rely on us. We need to shout louder than ever before for fair treatment and access to medicine. And to do all that - we need to raise funds.
By helping, you're not just supporting people with cystic fibrosis and their families, but academics, researchers, clinicians and the whole CF community.
Find out more
What is CF?
Cystic fibrosis, or CF, affects the lungs, digestive system and other organs, and there are over 10,600 people living with it in the UK.
Life with CF
From new parents and best friends of someone with cystic fibrosis, to journalists and those with a professional interest in it – there's a lot to learn!
Look closer
Our interactive body gives you the lowdown on the affects of cystic fibrosis, from head to toe.