Organise an office fundraising event
Find out how you could organise your own amazing office fundraising event.
Organising an office fundraiser can be an extremely rewarding way to raise money to help us beat cystic fibrosis for good.
Take a look at our office fundraising top tips!
1. Permission
Get permission from your employer and get and get as many teams involved as you can.
2. Why CF?
Explain what cystic fibrosis is and your reasons for choosing our charity.
3. Donations
Ask your employer if they can match your donation, and nominate us for charity of the year.
4. Date and theme
Pick the date and a theme – beach day, dress down, job swap, chairless, buffet sale, quiz…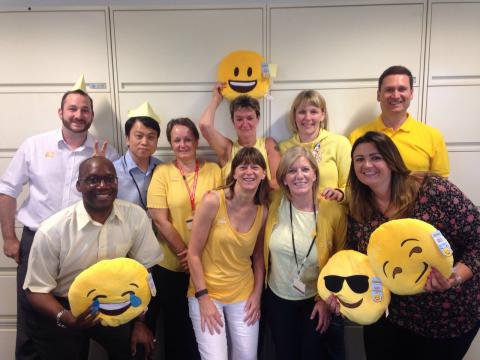 5. Teamwork
Why not team together and take part in one of our challenge events, earning your sponsorship through office activities?
6. Have fun!
Make it memorable and make it count!
7. Advice and support
Contact your community fundraiser for promotional materials, advice and support.
We really enjoyed fundraising in the office, even the bosses got involved with our beach party! Everyone had fun and we raised a fantastic amount of money for a great cause.

Nadine Page
Photographing your event
Brighten up your Just Giving and Facebook pages with images that show your hard work! We've put together some great tips for photographing your events.
Join an event
Find an event in your area and sign up to join Team CF - we'll provide you with loads of help and support!