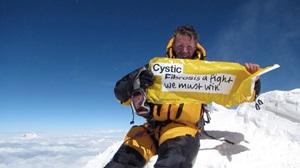 Fresh from his epic journey to the Mount Everest Summit, Nick Talbot has been named a Point of Light by Prime Minister David Cameron. Nick's unbelievable achievement has raised over £90,000 for the Cystic Fibrosis Trust and he is the first person living with the condition to have completed the climb.
This incredible feat did not come easily. Despite months of training, Nick's first two attempts were thwarted by terrible weather conditions and the 2015 Nepal Earthquake, which killed 8,000 people and caused a 200mph avalanche that hit Nick and his team at 300m.
Since being diagnosed with cystic fibrosis at the age of 12, Nick has spent his whole life raising awareness of the condition and fundraising for the Trust. As well as completing the climb, Nick has inspired others to join his fundraising efforts. His colleagues completed their own 'Climb for Nick' challenges to help raise money for the Trust.
Nick said "I am delighted to win this unexpected award from the Prime Minister and hope it will encourage more people to give to the Cystic Fibrosis Trust to help find breakthroughs in what is a race against time for many people alive with CF today."
The Points of Light award recognises outstanding individual volunteers who are making changes in their communities. The programme is partnered with Points of Light in the USA which has so far awarded over 5,000 incredible individuals with the prestigious title. Nick is the 544th UK winner.
Prime Minister David Cameron said, "Nick should be enormously proud of this astounding achievement, which builds on decades of fundraising for The Cystic Fibrosis Trust. I'm pleased to recognise his commitment and dedication by naming him a Point of Light."
Do you have a question for Nick? We're putting together a feature for the first edition of our new look magazine, CF Life, and we would love to hear from you on facebook or twitter. You can still donate to Nick on his fundraising page.