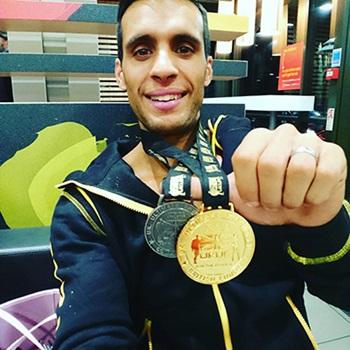 Adonis Vamvoukakis came fourth place in the UK Ultimate Physiques British Finals in the Men's Physique beginner's category. He entered his first body building competition in August this year and came second, qualifying for the British Finals on the 29th October.
Adonis, who is 27 and has been married for two years, lives in Torquay in Devon and has been working at the Mare and Foal Sanctuary in Totnes for two and a half years. Previously he was a personal trainer and fitness instructor but fell in love with horses and riding after riding his mum's horse, and decided on a change in career.
Pushing my body to its limits
Adonis chose to start competing in bodybuilding to see how far he could push his body. He said: "I have been using weights and the gym for about 13 years, so I chose to enter a competition against others who are like minded and see how I faired against them. Despite having CF it didn't even enter my mind as to whether I could do as well as them, I knew I wanted it just as much as anyone else so I would put in just as much hard work. The impact it had on my CF was not much at all, if anything my lung function increased as I was pushing myself harder at the gym, more than usual and pushing my body to its limits."
Training with CF
Adonis was diagnosed with CF when he was nine years old, and currently has a high lung function, which he maintains with exercise, diet, antibiotics and other treatments. His background as a personal trainer and his knowledge of nutrition all helped him to compete.
He said: "I wouldn't say that CF makes my training different than other competitors, I train to my body's strengths and weaknesses, and work with my body listening to it intensely for any sign of things that need to be changed or pushed harder. I do the same with my diet, which needs a bit more thought than maybe someone without CF, again using my knowledge of nutrition as well as an understanding of my CF and how it affects me, to work out a plan that keeps my body fat percentage low but also fulfils my body's macronutrient and micronutrient needs.
"I always monitored the foods I was having even before the competitions so I was able to understand what worked and what needed to be changed to maintain a stage-ready physique on the outside and a healthy CF patient on the inside!"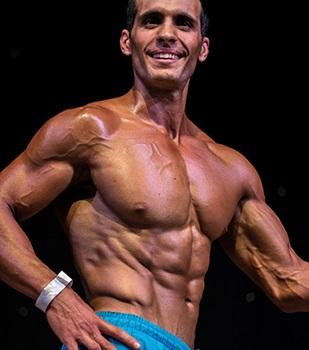 Overcoming the obstacles
Adonis has always approached exercise, his condition and life in general with a positive outlook.
He said: "To me CF is an obstacle to overcome, much the same as anyone else has, whether it is a condition, money, family. There is always a way to achieve your goals if you are willing to work at them and find a way over, round or through that life obstacle. A brilliant quote from Arnold Schwarzenegger himself is that 'you can't climb the ladder of success with your hands in your pockets'.
"Yes I have CF, but that does not mean I have to roll over and give up because things may be harder than they would be for someone else. It does mean that I want more than anything to achieve my goals. I had to work harder, but I wanted it so I was going to make it happen."
Adonis is planning to continue competing next year, and has been sponsored by a local sports supplement and clothing company called HENCH.Ltd, who will be donating 5% of their takings to the Cystic Fibrosis Trust for products sold using the discount code 'ADONIS' at checkout. To keep up to date with current discount codes, you can follow Adonis on Instagram.
To find out more about staying active with cystic fibrosis, take a look at our Activity Unlimited programme, or visit the CF Fitness Space for tips with exercising and access to Pactster, a website that offers free exercise videos and community support for people with cystic fibrosis.