At this year's marathon, Team CF raised almost £400,000 – an incredible amount that's enough to fund more than two years of a Strategic Research Centre investigating the key issues affecting people with cystic fibrosis. Next April, we want to raise even more, and to do that we need you!
How to be part of Team CF in next year's marathon
If you won a place in the ballot, congratulations! We'd love you on our team - just email us to let us know! If you didn't win a place, don't worry – you can apply for one of our limited Golden Bond places. In return for your commitment to such an incredible challenge, we'll make sure we're right there with you every step of the way. We'll help you with fundraising and training and we'll be there on the day to cheer you on. Once you've finished, we'll take care of the post-race hospitality for you too! Interested? We'd love to hear from you and answer any questions you might have.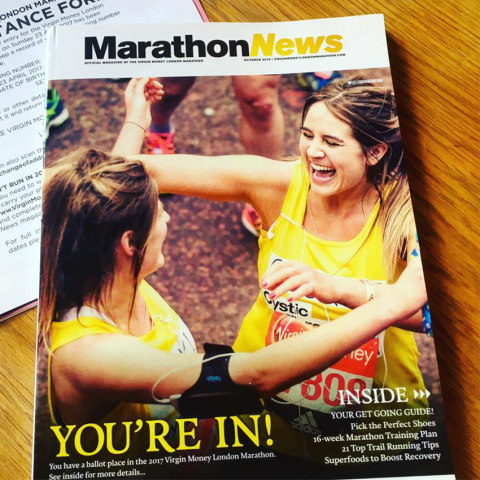 Need some inspiration?
This year, sisters Georgina and Nikki, ran the London Marathon for us and were selected to have their photo on the front page of the Marathon magazine for people who won a place in the ballot. We caught up with Georgina to ask her some questions about the experience.
What inspired you to take on a challenge for the Trust?
Every year we watch the London Marathon and feel totally inspired by those doing it as we sit idly on the sofa or cheer from the sidelines. Although it looks like great fun on the day (which my face suggests, because it was the end...), you know every runner has made great sacrifices, shown determination and often has a very personal story as to why they are there. The Cystic Fibrosis Trust is a charity that our family is extremely close to. My sister and I decided that whilst the dedicated scientists get on with their work (which we are helpless with...) running the marathon to raise money and awareness for the charity was something we could do. So when we were told we got a place to run with Team CF we were totally delighted... and then terrified!
Why the London Marathon?
The thought of running 26.2 miles without carefully planted friends and family to cheer us on would have made it much less fun and we thought we had more chance of getting them down for this than anything else!  It is an iconic route, has the most incredible atmosphere and brilliantly organised – what is not to love?
What were the best and worst parts of training?
For me the worst part of training was about four weeks before race day when the plan called for an 'easy' run. When running, I just felt exhausted and wanted to stop. The dread and embarrassment of not being able to finish it loomed, so I burst into tears and walked home. The next day we got up and did a 20 miler. I think that is the reality with training, sometimes you feel great, other times you don't but in the end, you will be fine.
There were some brilliant parts to training too. My sister and I discovered lots of London together and the joy of finishing the longest training run three weeks before the marathon is incredible. Carb loading is fun too.
How did you feel on the morning at the start line?
On the morning of the race we were so excited, totally proud to have made it there and also extremely overwhelmed by the huge number of donations and support we received. We managed to raise nearly £10,000 for the Trust which exceeded all our expectations and is something we are incredibly grateful to all our family, friends and colleagues for.
How was the support from the Trust in the lead up and on the day?
The support we received from the Trust in the run up and on the day was super. We received bumper fundraising packs which were full of great ideas, bite-sized leaflets to explain CF, t-shirts and encouragement galore! There were so many Team CF supporter stands lining the racecourse on the day, who made it for us. Every time we spotted one we ran over to soak up their positive vibes!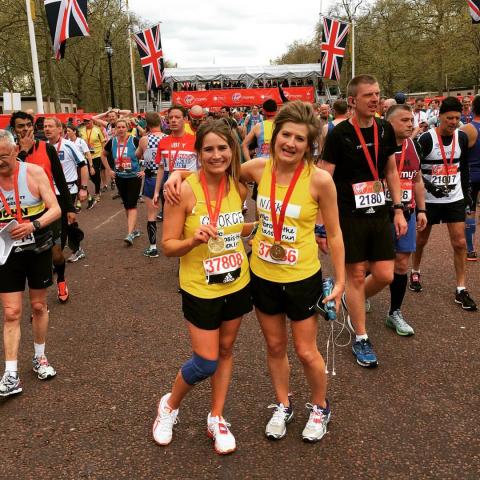 How did you feel crossing the finishing line?
I think my face says it all! I was so happy, proud, exhausted and also so grateful that we could do it. We ran the whole thing together, spurred each other on and crossed the finish line with our hands up in the air.
What would you say to someone considering running the marathon for the Trust?
For both of us, running the London Marathon was one of the best things we have ever done.  I remember reading a line from a Trust advert that said "The London Marathon will take your breath away, but fighting for breath is something we know a lot about." That is the stark reality. It is a tremendously difficult condition to cope with, but we are making progress and believe it is beatable. So please join Team CF next year to keep raising awareness and money for a brilliant cause.