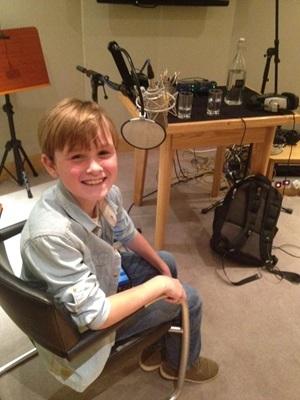 'I Can't Go To School Today: Jasper's story,' produced by Mosaic Films for BBC Learning, won a BAFTA in the 'Learning: Primary' category of the Children's BAFTA awards. The video is being used as an educational tool on BBC Bitesize, a free online study resource.
The short animation uses the real testimony of Jasper, a young boy living with cystic fibrosis (CF). In the video, Jasper talks about CF and the daily effect it has on his life, explaining what it's like taking Creon at school and how it can be tiring getting up early to complete his treatments.
Jasper's mum, Fiona, said: "When Jasper was selected by Mosaic Films to head down to London and record an interview in a Soho Studio, we were very excited. Jasper had never been to London before and thoroughly enjoyed the whole experience.
"We listened intently as Jasper sat in the sound booth and described what it's like living with CF in his own words. He spoke from the heart without the use of a script, which was then edited into the animation.
"When we received the news that the series of animations had won a BAFTA children's award, we were so proud of Jasper's input. Mosaic Films were so grateful to us all and described Jasper as 'a brave and articulate young man'."
Jasper's mum asked him what he thought of the video being awarded a BAFTA: "Jasper told me he thinks it's really cool and can't wait to tell his friends. He felt pretty special when school showed his animation to everyone in assembly. His head teacher told him they wanted to write about it in the school newsletter."
'I Can't Go To School Today' is a collection of real life stories from children living with illnesses and conditions. The five other animations produced by Mosaic films tell the stories of Summer who has epilepsy, Naomi who has Acute Lymphoblastic Leukaemia and is now in remission, Ben and Izzy who are both anaphylactic, and Melissa who was born HIV positive.
Michelle Rostant-Bell, Information Manager at the Trust, said: "We are all delighted to hear of the film's success – congratulations to Jasper and Mosaic Films! Jasper's account gives a powerful insight into what it can be like to have cystic fibrosis and will be a very useful and informative resource for both children and adults.
"Jasper identifies some difficult issues that he and his family have to cope with, and the Cystic Fibrosis Trust is here to support families, like Jasper's, through the provision of information and a variety of services including our helpline, financial support and advice."
Watch Jasper's amazing video and head over to the Cystic Fibrosis Trust website for information on starting school with cystic fibrosis. You'll find fact-sheets for schools, a booklet for parents, an individual healthcare plan template, and a short film.