Seven bright sparks win awards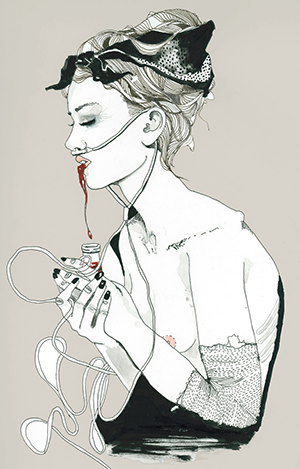 Seven bright young things will enjoy business mentoring and up to £1,000 in investment to develop their interests and creative passions and possibly turn a profit, after receiving the 2016 Helen Barrett Bright Ideas Awards.
The successful applicants include Monmouth-based artist Poppy (her artwork pictured, left), the young actor and entertainer Charles Michael Duke who has established a reputation as a YouTube vlogger, and Sara, who is setting up her own counselling practice after studying for a Postgraduate Diploma in Counselling and Psychotherapy.
The Bright Ideas Awards, now in its second year, were set up in memory of Helen Barrett, an entrepreneur who set up her own gym, and who also had cystic fibrosis.
Charles, who is on the waiting list for a transplant made a special video to say thank you to the award panel, who have helped him buy a new computer to take his video work further than ever.
Panel judge Mike MacKay congratulated everyone who applied: "This year's applicants were fantastically brilliant. One thing that blew the panel away was the amount of creativity and skillsets. For us, it was really important to see not only how they would spend the money but how mentorship could take their ideas forward."
Find out more about the awards and this year's recipients.