Buoy oh buoy, what an achievement!
Michael Goodwin from Stone, Staffordshire is all set to complete the final stretch of his epic, two year sail around the UK coast on Saturday 17 September, raising an incredible £20,000 for the Trust in the process.
Michael, whose son Daniel has cystic fibrosis (CF), set out in May 2015 and travelled from Southampton to North Scotland, joined along the way by friends, family and even strangers who were inspired by his cause. The second half of Michael's mammoth journey took part in 2016 when he travelled from Orkney South through the Irish Sea and back to Southampton, where he will arrive on Saturday in his yacht, the 'Blue Star', co-owned with friend Roger Colmer who has also co-funded this incredible project.
Raising vital funds
Michael and his team smashed their initial goal of £6,000, raising over £20,000; enough to fund 10 annual studentships or 20 Helen Barrett Bright Ideas Awards!
During the final stretch, Michael said: "I really enjoyed most of it – it's been a big adventure. It was lovely seeing Britain's coastline from the sea, and I feel that I have joined a select club. I really enjoyed the fundraising element, and found it really satisfying to have raised so far beyond our expectations.
"One of my favourite stretches was sailing out of Amble up to Eyemouth as we had perfect weather; flat sea and a great wind. It was also lovely seeing wild dolphins swim alongside us, and I really enjoyed meeting all the people along the way. The not so good bits were definitely banging my head every time I went below deck, and going to the toilet when the sea was rough!"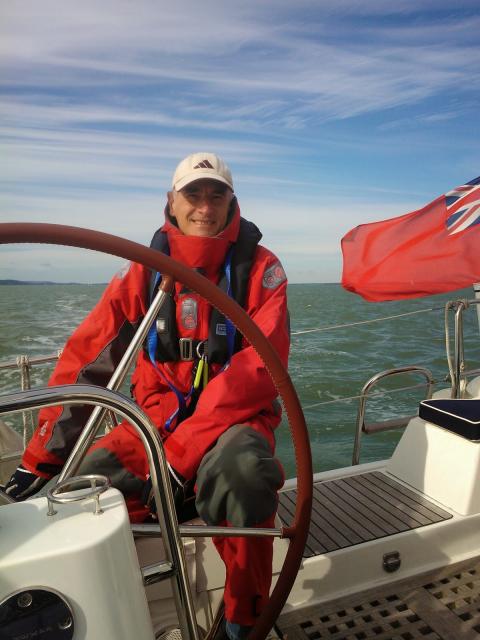 Michael's inspiration 
Michael spoke about how his son, Daniel, inspired his epic journey: "He would have loved to have joined us on some of the legs, but unfortunately his health took a turn for the worse so he was unable to. Seeing him in hospital definitely brought home why I did the challenge and how important it has been."
Michael's friend, Roger, who is the co-owner and joint Skipper of the 'Blue Star' said: "It was a pleasure and a privilege to be able to embark on this adventure to support the Cystic Fibrosis Trust. A great deal of credit must go to my partner Mike Goodwin and his wife Diane for their enthusiasm and effort in driving the charitable part of this venture. I'm sure I speak on behalf of all who crewed for us and generously donated to the charity, when I say that it was a positive and worthwhile experience to be involved in the sail around Great Britain."
You can still donate to Michael's fundraising page and read all about his journey - but his amazing fundraising efforts don't stop there! A retired lecturer, Michael will be using his skills to hold talks on cystic fibrosis and his adventures across the sea in exchange for donations to the Trust. Interested in having Michael speak at your event? Contact him on his blog.
If you were inspired by Michael's incredible acheivement, take a look at some of the fundraising events you can get involved in for the Trust.
As Michael finishes every blog post with a joke, we asked him to send us one of his favourites…
Q. Where does a sick boat go?
A. To the doc!