Card competition winner announced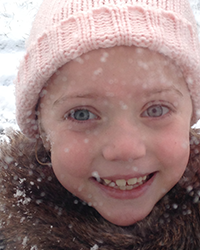 Molly-Mae, pictured, who has cystic fibrosis, said: "Thank you, I am very proud to be the winner of the Christmas card competition. I hope it raises lots of money to help others like me!"
Last year, she took part in the famous Yorkshire Three Peaks challenge with friends and family, raising over £2,000 for the Trust's work in the process.
Sainsbury's Central Retail Division donated a £100 voucher for the first prize, which Molly-Mae will put towards a laptop to help with her homework.
Alongside her winning card, which will be sold in packs of ten, the four runners up will see their designs for sale in multipacks, all raising vital funds for the Trust's fight against cystic fibrosis.
Rachael Harris, Direct Marketing Executive at the Trust, said "Thank you so much to all the children who took part in the competition - we received some really lovely cards and I hope lots of fun was had making them!
"Congratulations to Molly-Mae and to the four runners-up whose creative designs will be available to purchase next year."