Crayons at the ready – the Christmas Card Competition returns!
The Children's Christmas Card Competition is open to children under the age of 12 who either have cystic fibrosis, or who have a relative with the condition, and the winner's card will be added to our selection of Christmas Cards available on our online Christmas shop next year. Sainsbury's have kindly donated a £100 voucher for the lucky winner, to be spent on toys or treats of their choosing.
Last year's proud winner, seven-year-old MollyMae, put her winnings towards a laptop to help with her homework and bravely announced her win to her whole school assembly.
Molly-Mae, pictured, who has cystic fibrosis, said: "Thank you, I am very proud to be the winner of the Christmas card competition. I hope it raises lots of money to help others like me!"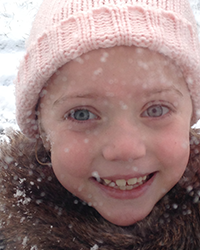 Enter your masterpiece
Find out how to enter and take a look at MollyMae's card in our online shop, available in packs of 10 or as a multi-pack including cards by our talented runners-up (Ruby, age 10; Tilly, age 8; Lucy, age 7; and Chawan, age 7)