Diwali and CF: Hetal's story
I was diagnosed with CF when I was six months old. I was coughing a lot and struggling to breathe. My mum took me to my GP, who realised it wasn't a normal cough and told my mum to take me to A&E.
As a child I tried to live a normal life, going to school and completing university. I went on to work in a school as a teaching assistant. I loved it, and the hours were perfect for me to get home in time to do my late afternoon CF treatments.
I'd been working for 10 years when one day my CF took a turn for the worse. It was a Saturday, and we had guests for dinner. I was in the kitchen when all of a sudden, I started to feel pain in my chest. It lasted for 10 minutes and then I was fine but very out of breath. Sunday passed, and I was so tired and struggling to breathe. I thought it was a chest infection.
On the Monday I went into hospital after work for an X-ray. It turned out to be a collapsed lung. I was devastated and scared. I really don't know how I managed to get through the weekend and a working day with a collapsed lung.
A year later I had a double lung transplant, which has been a blessing, but I've been through some mental and emotional struggles and lost my confidence. I had to stop work when my lung collapsed, which I found really hard.
When I was diagnosed, my family had never heard of CF. To this day, I think many Indian communities still haven't heard of it or don't really understand it. Having CF and being Indian is difficult as you get older – and dating can be particularly hard. I'd be put aside in favour of my younger sister, who'd be asked by my parents' friends or other family members if she was single and interested in dating – even if I was in the same room. They don't know the mental impact of the innocent conversation they're having, sadly. But everyone wants to find love, a life companion.
Light over darkness: Diwali and my CF
I love Diwali. It's a festival of lights, celebrated by Hindus, Sikhs and Jains, in celebration of victory of light over darkness, good over evil, and knowledge over ignorance.
In preparation for Diwali, we start making Diwali food – sweet and savoury snacks for when people come to visit. I love Diwali food, because it's something you get to enjoy once a year with your family and friends. Diwali food can be a bit of a struggle for someone who has CF, though. A lot of the savoury food is deep fried, which makes me cough more, and I tend to miss sweet dishes because I have CF-related diabetes (CFRD).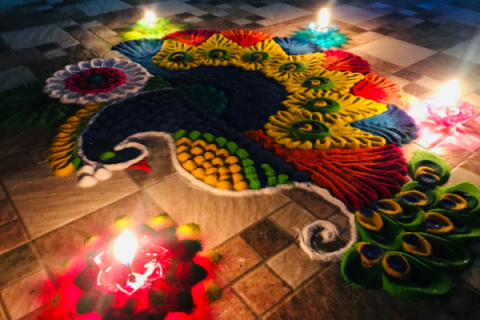 We also put Divas up around the house, which are oil lamps made from clay that represent enlightenment, knowledge, or wisdom. Some people make beautiful rangoli patterns on their doorstep, to make their homes welcoming.
On Diwali we all dress up in the morning and go to the temple and then visit family and friends to wish them Happy Diwali. We give money to the children and some of our Diwali food. That was my favourite part of Diwali as a child – receiving presents and money and playing with other children.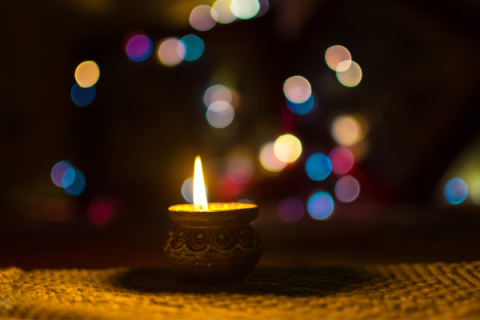 Now I love being close to my family, and walking down to Leicester's Belgrave Road, which is known as the Golden Mile. It's famous for its Indian food, fashion, spices and jewellery shops, as well as hosting the largest Diwali celebrations outside of India. It's beautifully decorated with lights, with a stage for entertainers to perform. Last year it was cancelled due to the lockdown, which was really sad. The day that's always been special just didn't seem that special. But we did eat plenty of Diwali food, and wished everyone a Happy Diwali on phone calls and Zoom.
CF always has an impact on any celebrations, especially Diwali. If I was out visiting family, I'd have to rush back home to do my mid-afternoon treatment. If I missed this it'd have an impact on the rest of the day. If we're out celebrating in the evening, I have to come home for my evening treatment. If I miss my airway clearance treatment, my airways get clogged up. My body's used to having my treatments at the same time every day, so if it's late my coughing would get worse.
This year, with the pandemic ongoing, we're still being extra cautious. I'm due to have an operation soon, so I'm likely to miss it altogether, but I'll definitely be having Diwali food in hospital. Next year I hope to be back with my family, visiting the Golden Mile and enjoying this special day.
---
Cystic fibrosis (CF) is a genetic condition which causes sticky mucus to build up in the lungs and digestive system. It affects more than 10,600 people in the UK. One in 25 of us carries the faulty gene that causes it, usually without knowing. 
If you're struggling with any aspect of cystic fibrosis, we're here to help. Contact our  Helpline  for support, a listening ear or just someone to talk to.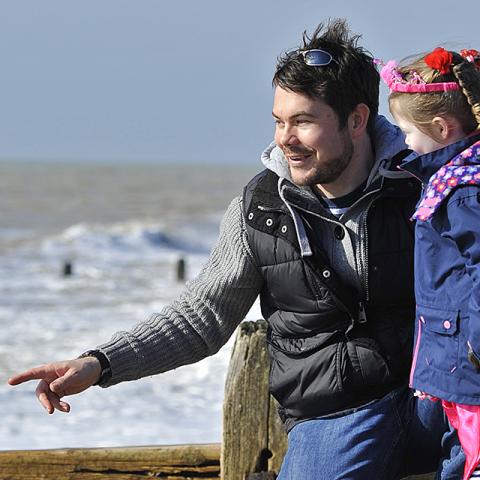 Our newsletter
Sign up to our e-newsletter for the latest news on what the Trust and its supporters are doing