Fantastic fundraiser goes the extra furlong
Wild horses couldn't drag Antony Lewis Crosby into an easy retirement; instead, he has travelled the length and breadth of the UK and Ireland to raise thousands for the Cystic Fibrosis Trust. He embarked upon 'The Racecourse Challenge' in Ballinrobe in Ireland in 2009 and has since visited every horse-racing course in the British Isles in alphabetical order. By shaking buckets, getting entries in racecards, doing parade ring interviews, having a flutter and much more, his escapades have raised a whopping £66,000 to help create a brighter future for everyone with cystic fibrosis. 
Growing up near Leopardstown racecourse, Ireland, Antony says racing is in his blood and the challenge was always in his retirement plan, but the fundraising aspect added to the experience. He said: "The challenge was originally thought up as a way of seeing the country, and my motto of 'have fun fundraising' rang true even when the stunning scenery disappeared behind the rainclouds at times!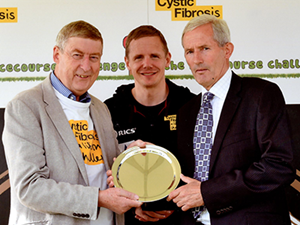 Antony is inspired by his son, David, who has cystic fibrosis and has had a double lung transplant, and was present at the grand finale at York Knavesmire racecourse. The challenge combined Antony's passion for the races with a lot of hard work, pre-planning all of his visits with the racecourses and receiving fantastic support, including the opportunity to have four races named after his challenge and some brilliant cheque presentations, including the race he sponsored at York. He has roped in friends, family and acquaintances from around the country as well as regional fundraisers for the Trust and parents of people with cystic fibrosis. Nick Talbot, the first person with CF to summit Everest, made a special appearance at the finale in York to show his support (shown with Antony on the left and the owner of the winning horse on the right).
Linda Alexander, Community Development and Fundraising Manager at the Cystic Fibrosis Trust, said: "We're completely in awe of Antony's dedication and the preparation that went into completing this wonderful challenge. The money raised will make such a difference – it could be used for cutting-edge research, information and support for families affected by CF and so much more. Thank you, Antony!"
Antony is an absolute inspiration and his challenge showcases how you can take the reins and do something you love and transform the lives of thousands of people at the same time. If you want to have a go, find out more about organising an event – we'll support you every step of the way.