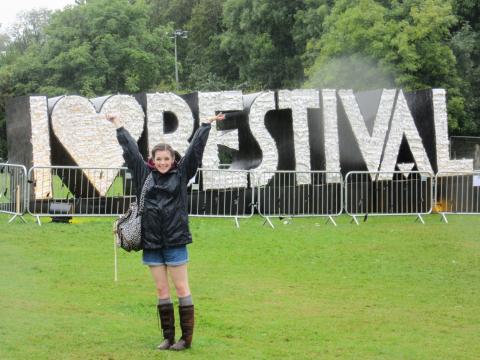 Over the past year I have loved being part of the Youth Advisory Group (YAG) at the Cystic Fibrosis Trust. As a group we've been coming up with some great ideas about young people and living with cystic fibrosis (CF) (which everyone in the group does). Our meetings are always virtual due to the cross-infection risks, which basically leads to one big wheezy, laughing-then-coughing fit for everyone involved.
After speaking to the brilliant Holly-Rae Smith, who is the Youth Empowerment Officer at the Trust, she asked if I would be interested in going to Bestival to see what it was like from an accessibility point of view. It also happened to be my first festival experience so I jumped at the chance, recruiting my best friend Scarlett to come with me (she happily obliged!).
We actually got the train, and the hovercraft (which is great and so much faster than the ferry) to the Isle of Wight, and then a shuttle bus picked us up and took us to the site. We stayed in the Accessibility Field, which is around a five minute walk to the middle of Bestival and the main stage. It's manned by a great team, headed up by Drew, who was brilliant at making us feel at home as both Scarlett and I were doing a bit of volunteering in the field too. In the Accessibility Field, you can camp, park, bring a caravan/campervan, the lot!
From a CF point of view, it all went very smoothly, which I'm so happy about. There were power points in the marquee at the entrance to the field, which I didn't need to use but were generally being used by others for charging electric wheelchairs. I've got an iNeb, which is battery powered and rechargeable, so I didn't need power to use it but I definitely could have charged if it died.
My fridge medicines had to be stored in the hospital tent, which you organise when you arrive and is generally full of slightly worse for wear 20-somethings who might have had a little too much to drink! In exchange for a £10 refundable deposit my nebuliser solution was stored for me, and I could go and collect it whenever I wanted using a little ticket they give you or a password (in case you lost the ticket... which I did).
However, they didn't have storage for regular medications. I had pre-packed all my tablets into plastic sandwich bags for each day but I did carry all my medicines with me when I left my tent as there wasn't secure storage anywhere and I didn't want to lose them. Sandwich bags were definitely my best friend (besides my actual best friend) throughout the weekend. It poured and poured... and poured on the Saturday, and the bag I had to carry with me wasn't waterproof but luckily all my medicines (and phone, charger, money etc) were safe in the 27354 little plastic bags I had with me!
Side note: dry powder inhalers + copious amounts of rain = CF-related catastrophe
Despite the fact there were bag searches in operation at various sites around the festival, no one asked me once why I had a huge number of tablets in my bag (my bottle of water however, was an issue!). I carried a copy of my repeat prescription with me just in case, but that might have been a bit excessive, I'm sure an explanation would have been enough. I've done a bit of research into other festivals and there may be some that ask for original packets of medication, which would mean a HUGE amount of luggage for multiple boxes of medicines. Bestival isn't one of those fortunately, but it is definitely something to consider. The food was amazing, so I recommend bringing extra Creon because I ate SO much the whole weekend, and there was so much to choose from so there's something for everybody.
The guys who manned the Accessibility Field were brilliant, they were around to help with pretty much anything and were all so lovely. They don't mind lending a hand with tent-pitching either (we did attempt this ourselves, and the tent stayed up for the whole weekend so we must have done something right!). They also have a little golf buggy-type vehicle, which they can do lifts back and forth to the main site with, should you need it. By the end of the weekend it was quite muddy so I think the buggy proved very useful for wheelchair users.
In the main stage area, there was also an accessible viewing platform, manned at peak times by the team from the Accessibility Field. If you were staying in Accessibility, you could use the platform instead of standing in a rather muddy main stage arena and because it is slightly raised the view was great over the crowds. There were seats up there too, but it did get busy especially during the headliners so it's probably worth getting there a bit earlier to watch other acts if you might need a chair.
Overall though, the whole experience was great and the only thing I didn't really enjoy was the trek up Robin Hill at the end with tent and luggage in tow (but it 100% counted as physio!). A huge thanks to the team at Bestival and to the Cystic Fibrosis Trust for sending me (all in the name of research of course!).
Ps I won't mention the toilets…
Download our brand new festival planning information for top tips on attending festivals if you have cystic fibrosis - we've even got some useful information for parents.