Fifty fantastic fundraising feats
This May, Lorraine Barnes completed the last of her '50 fundraisers for cystic fibrosis' challenges with her 50th Birthday Charity Ball at Belton Woods in Grantham. Over the last 18 months, her fundraising efforts have included a skydive, sponsored walks, auctions, shaving her head and even getting strapped to the roof of a plane for a daring wingwalk.
Inspired by her two sons, Daniel and Joseph, who both have cystic fibrosis, Lorraine said: "There is nothing in my life I need or want more than my sons to have a secure future – I want them to see 50 years old, and beyond.
"I am extremely passionate about fundraising and raising awareness of cystic fibrosis. While we are still campaigning for new treatments to help stabilise the condition, I'll keep on fundraising, drawing on my 11 years of experience and calling on my network of supporters built up during this time.
"One day, we will see an end to cystic fibrosis; I hope that happens during my sons' lifetimes."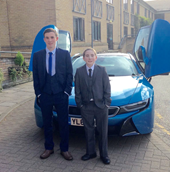 As a family, they have raised over £300,000 in the last 11 years, providing support for the Cystic Fibrosis Trust's ambitious plans to create a life unlimited for everyone with cystic fibrosis.
You can follow Lorraine's blog online; if you're inspired, you can still make a donation to her current fundraising page, and help us beat cystic fibrosis for good.Alison Edwards, Community Development and Fundraising Manager at the Trust, said: "Lorraine's tireless enthusiasm in an absolute inspiration – we are so grateful for her dedication to fundraising. Supporters like Lorraine inspire us at the Trust to keep working hard to create a brighter future for everyone with cystic fibrosis. Thank you, Lorraine!"
Pictured: Lorraine with actor Tristan Gemmill (Coronation Street), and Lorraine's sons, Daniel and Joseph.