Five Days Following a Physio Fellow
The Trust's Physiotherapy Fellowship was set up to give physiotherapists the training and experience required to pursue careers specialising in cystic fibrosis (CF) care. The skills and experience gained through Fellowships can have a powerful impact on CF physiotherapy services and the lives of people with CF in the long run.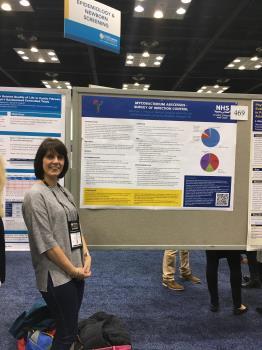 Monday: Glasgow
Lisa Morrison, Clinical Specialist in the Glasgow Adults CF Team, is my supervisor for the Physiotherapy Fellowship (here's a picture of her at the North American Cystic Fibrosis Conference in Indianapolis). I like to check in with her regularly as this keeps me on track for the goals I have set for the year and she is a great help guiding me based on her years of experience. Obviously, with me being based in Newcastle it is not always possible for us to meet in person, but this Monday I travelled up to Glasgow, where I was able to observe practice within her centre and meet other members of the team. On this occasion, I met with Christine, a microbiologist who gave me great insight into the current issues around Mycobacterium abscessus and infection control.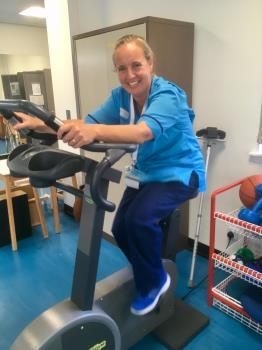 Tuesday: Dundee
Whilst in Scotland, I took the opportunity to visit Alison Smith, the Advanced Physiotherapy Practitioner in Dundee, and the rest of the CF Multidisciplinary Team at the Ninewells Hospital. In comparison to Newcastle this is a smaller centre. However, the visit was very inspiring and showed me what the team can do when they have a little bit more time to spend with individual patients. One particular thing I took away from this visit was the innovative ways in which Alison and the team engage and motivate patients, particularly with exercise. For example, using a little bit of competition to encourage patients, such as 'the 30 day squat challenge,' with a different exercise started each month. Here's Alison proving you can be happy whilst exercising!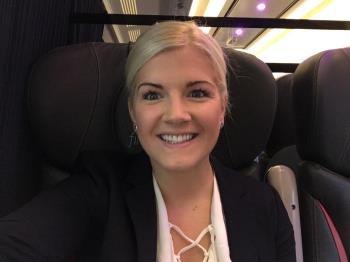 Wednesday: London
Prior to starting the Fellowship, I was aware of what great work the Cystic Fibrosis Trust does for the CF community, but I don't think I truly appreciated the magnitude of it  until I first visited their headquarters in London (here's a picture of me on the train travelling down to London - being a Physio Fellow makes me a frequent traveler on the train lines!). I met with many of the inspirational members of staff from the different teams, and it gave me an insight into the scale of the support that they can provide. Today was my second train journey to Trust HQ for the Clinical Advisory Group (CAG) meeting. In CAG meetings, experts in each field of CF treatment represent their profession (physiotherapy, nursing, dieticians, doctors) and discuss current issues in CF and create action plans to target them. This was a great opportunity for me to get a better understanding of the 'hot topics' in CF, and it was amazing to see the passion from each individual in the room dedicated to improving CF care.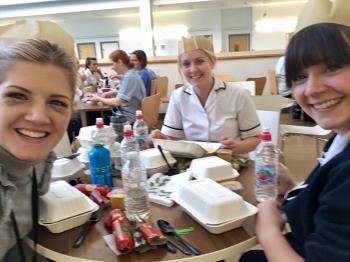 Thursday: Newcastle
I have been learning lots from my various visits and study days – however, I feel it is important to regularly touch base with my team and our patients. I like to schedule some time every week to feedback to my team and, where appropriate, discuss how we can make little changes to improve things for our service. I also ensure I do some clinical work because I'm eager to try the things I've learnt. Or sometimes I simply miss the patients, so I don't go too far for too long! Today was extra special as we got to have a team lunch together to mark the start of the festive period. My black eyes in this picture are from a rugby injury and are not Fellowship-related!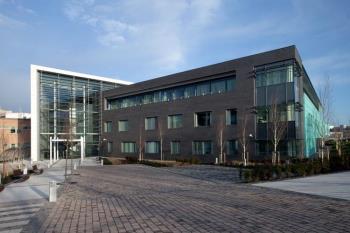 Friday: The Institute of Transplantation, Newcastle Upon Tyne
We are very fortunate here in Newcastle to have the transplant centre within our Trust. However, the CF centre is at the Royal Victoria Infirmary, while the transplant team is located at the Freeman Hospital a few miles away. With increasing pressures, I have not previously had the time or opportunity to visit the transplant team. With the Fellowship, this is no longer the case! I was very privileged to have the opportunity to work with the Transplant Physio team on a Day One post-operation CF lung transplant. For me this was an incredible experience and I was able to feed back to the CF team how well the individual was doing, which brought smiles all round. I am also going to spend more time with the wider transplant team next week to get a greater understanding of the assessment process. For me, this is what it is all about and I wouldn't have all of these fantastic opportunities without the Fellowship!